Franciscan Candidates Together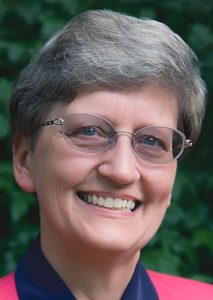 From March 7-10, Sr. Kathy Warren, OSF, a Rochester (MN) Franciscan, led a Formation Workshop for the candidates of the Inter-Franciscan Formation group at Graymoor, NY. The group meets twice a year and has been meeting consecutively for the past 30 years. There were 24 women and 24 men from a number of Communities, representing all branches of the family: OFM communities, Poor Clares and Third Order men and women. Our Capuchin Postulants were there with the formation directors.
    Sr. Kathy addressed "Francis of Assisi: A Critical Message - His Vision of Universal Kinship." Together, the group explored two significant pieces of the life of Francis:  his encounter with Sultan Malek al-Kamil (1219) and his Canticle of Creation (1225-26). Reports are that there was wonderful interaction,  meaningful prayer, valuable socializing and a delightful "talent show," but we have no photos or videos to prove that.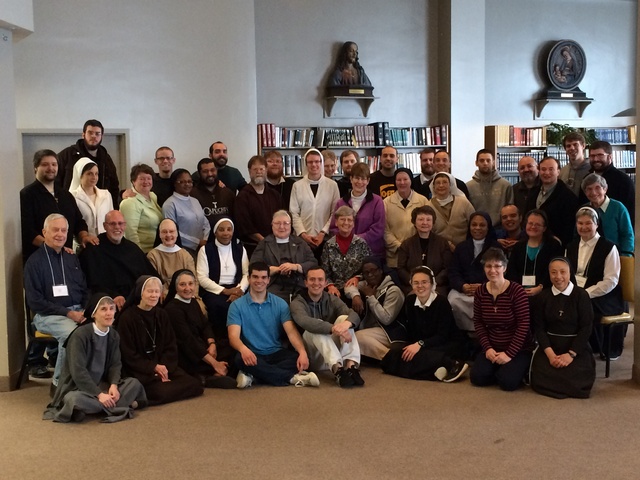 Kathy and Jayasri (Joyce) Hart co-created a two-part film, In the Footprints of Francis and the Sultan, A Model for Peacemaking, which shows how the courageous act of one man continues to influence thinking about how to collaborate with different faith traditions, ethnicities and cultures. It's available through Franciscan Media (formerly known as St. Anthony Messenger Press).
---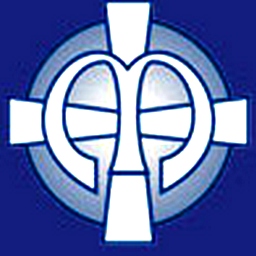 An Honored Roman . . .

    Our brother Roman Kozacheson was recently honored for his work for and with the Schools Sisters of Notre Dame (SSND) of Baltimore, MD. At an "Employee Appreciation" Mass on March 22, he was recognized for "completing 5 years of dedicated service to the Sisters." You notice he tried desperately to get the attention off of his guardian -- struggling to spend at least a few minutes in the spotlight.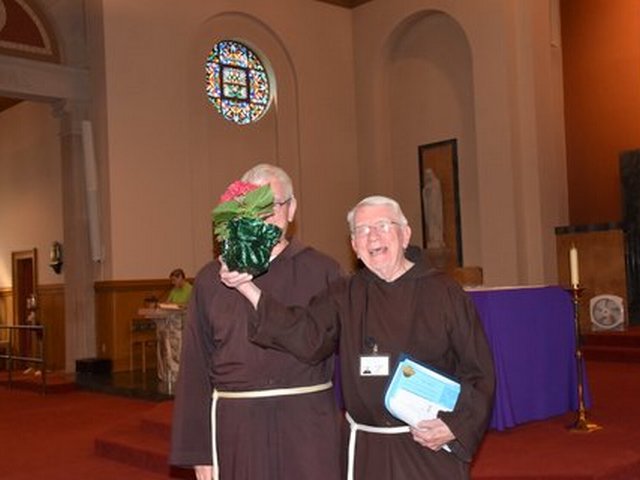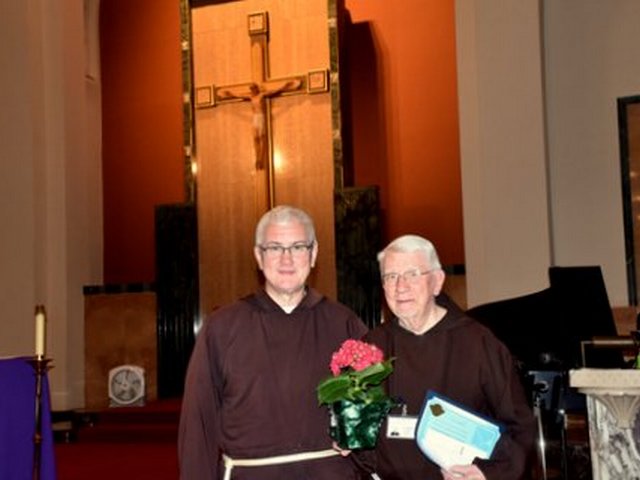 ---
On mission in Ecuador
     From Manuel Avilés: "Attached are some pictures from the mission trip to the Amazon in Ecuador. There were around 40 missionaries including two priests, a Religious Sister, doctors, nurses and students from Franciscan University in Steubenville, OH. The mission provided for some basic medical care, supplies of various medicines, sessions on the Catechism and Masses in villages that are nearly inaccessible except by horse, canoe or foot. The region that we visited is in the Province of Napo, located five hours southeast of Quito.
     "The university is always looking for bilingual priests to assist in these missions, so if you are interested in participating in such a mission trip for a week next year let me know."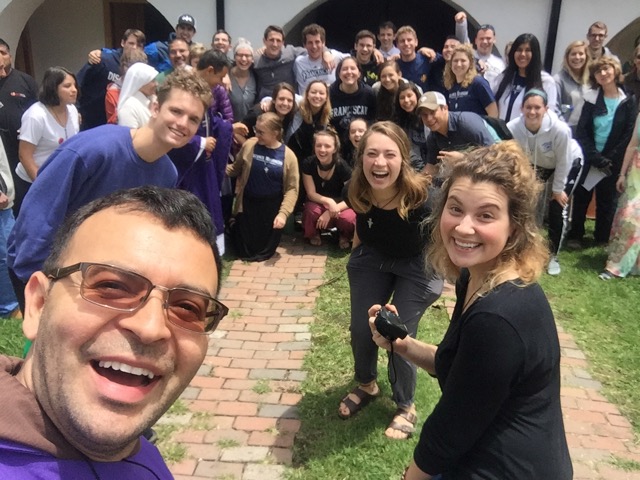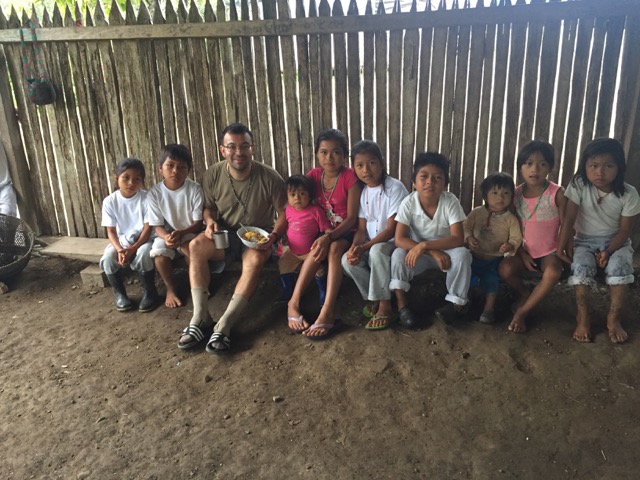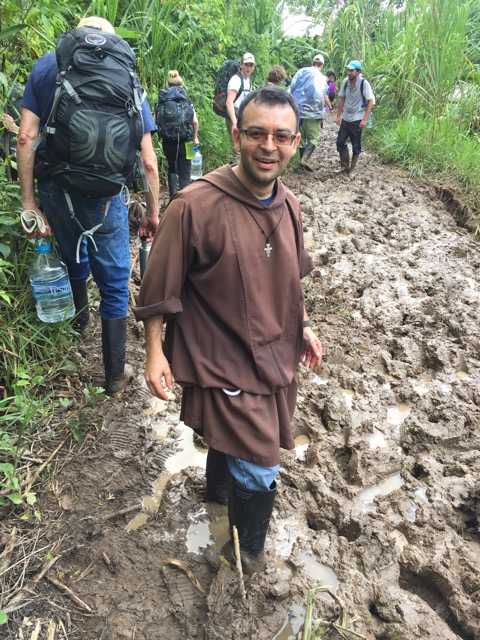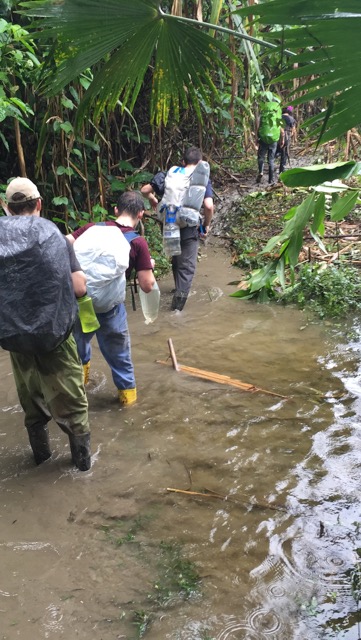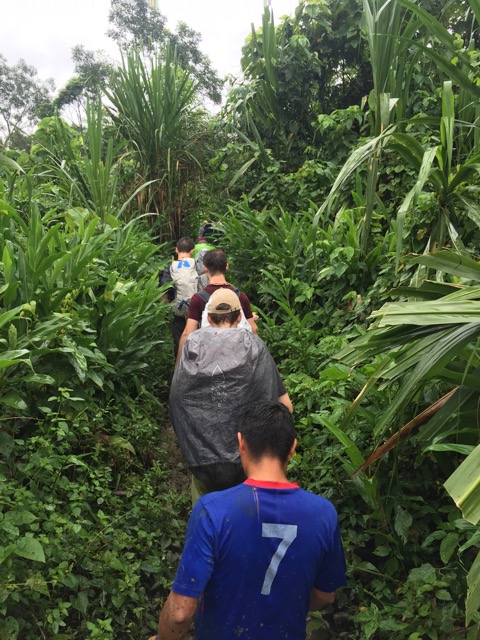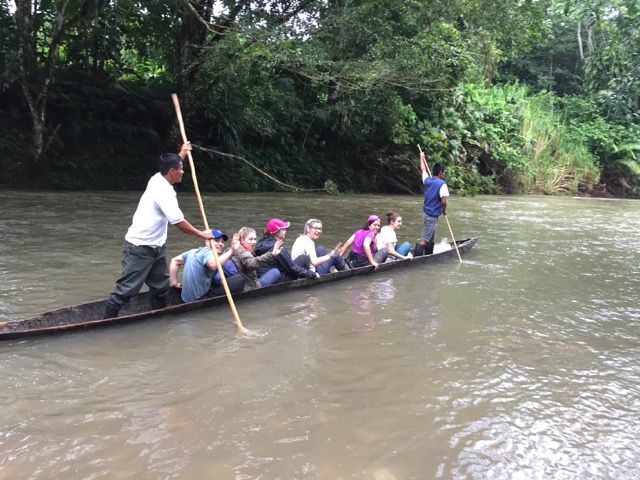 ---
Operation FaithLift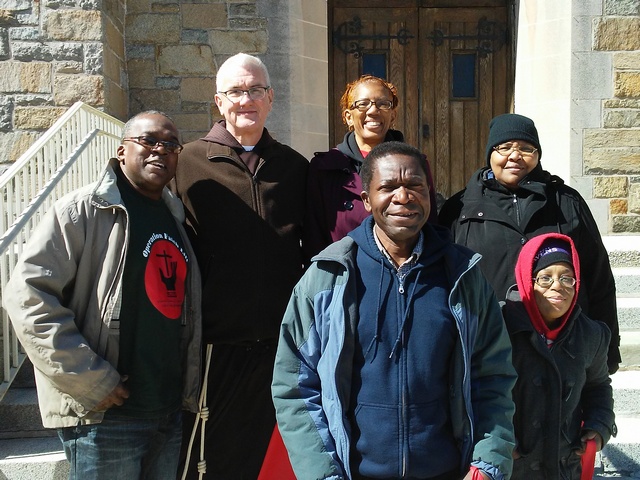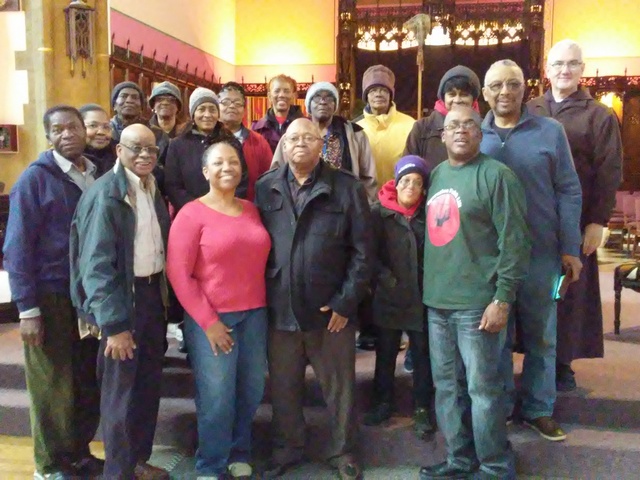 In the morning of Saturday, April 8, about 30 men and women came together from St. Ambrose Parish, St. John Lutheran Church and Holy Nativity Episcopal Church.  The group went into the neighborhood and distributed around 500 invitations to worship for Passion (Palm) Sunday and Easter Sunday.  The parishes printed a joint invitation, sharing the responsibility of evangelization for all the faith communities. 
    Around 4 or 5 of the participants remained in the church as "Prayer Partners" for the success of the morning as the others scoured the neighborhood. Paul Zaborowski reports that their prayers were answered.  "It was good to see how receptive people were to receiving the invitations." Many of the recipients of the invitation were present for the various liturgies who may never have made their way without the prayer and action on their behalf.
---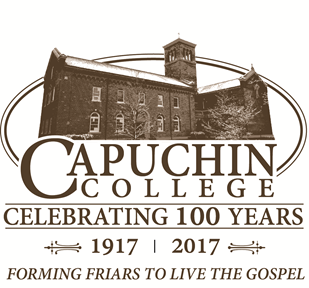 "Seven Last Words" from Cap College

    From Matt Hindelang: "Brothers, I want to inform/remind you that Cap College has a YouTube channel where we post our weekly reflections.  Almost every week there are three reflections. One of them is on a part of our Capuchin Constitutions and the others are reflections on another topic. Check out the Seven Last Words presented by the friars here at Cap College. You can view them all here."

    On the channel, you can also view the homily from Paul Dressler for the Easter Vigil.
---
Holy Week at the Novitiate

    Phil Bernier writes: "The YouTube video below is a short video that captures some of Holy Week at San Lorenzo. Happy Easter!"
---
Franciscan Superiors Ask Pope
to Allow Brothers to be Elected Leaders


    From the Crux news site (04/11/17): "Superiors of the four main branches of the Franciscan friars formally asked Pope Francis to allow their communities to elect brothers to positions of leadership, even though the Vatican has insisted in the past that ordination is a requisite for 'the power of governance.' " Read the full article.
---
George Muthaka Returns to Kenya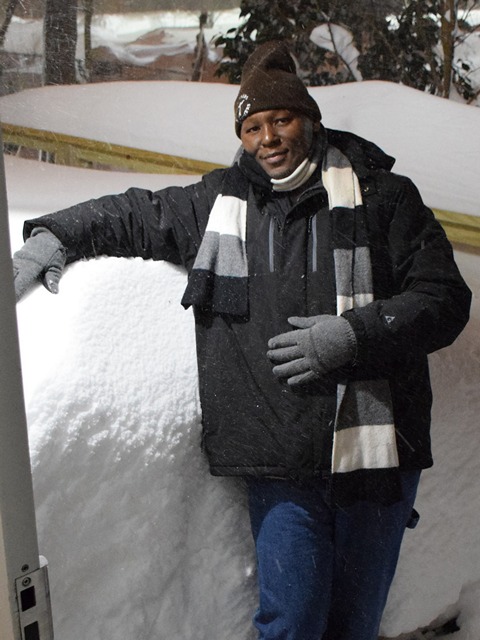 This note of thanksgiving was written by our Kenyan brother George Muthaka, OFM Cap., as he prepares to complete his studies in Washington, DC:
    Peace and all good! On behalf of the General Custody of Kenya and indeed on my own behalf, I want to extend profound gratitude to you, to your predecessors and indeed to all the friars of your great Province, for all the support that you have rendered to me during the last two years that I have spent at the Capuchin College. Unfortunately, my stay here is coming to an end in a few weeks after my graduation. I would have loved to build a tent here but obedience dictates that I take leave . . .
    My stay at Capuchin College and in the Province can only be described as a blessing. I felt at home and was glad to experience the fraternal and formation life of your Province. I have learned a lot and grown in my vocation out of this experience. I have visited and interacted with many friars of your Province and at no time did I feel unwelcome. The friars were all so gracious and fraternal to me. I will always be a good ambassador of this Province. I will always cherish the time I spent here and your generosity.
    I am also glad to note that my stay here has also initiated the process of collaboration between our two circumscriptions. As we speak, two of my brothers are in the process of procuring visas to head to Papua New Guinea for missionary work. And, who knows, I might one day be in Papua New Guinea. I know my brothers would also love to have your brothers visit and even stay in Kenya. May this collaboration continue to grow and to flourish.
    Finally, as we continue to journey in our respective vocations, we commend ourselves to God's grace and mercy. Always know you are truly appreciated.  May I also ask for forgiveness if at any moment I did not live to the expectations of any friar. Thanks again.
---
CFP: Time Again for Alverno
      Thanks to Drew Morken of the CFP who sent this photo along from a weekend at the "Thin Place." 
He writes:  We had a great weekend at Alverno (Mar 30-Apr 2). 
We were able to spend lots of time with Jesus in adoration, 
time in fraternity around the fireplace and time for quiet reflection.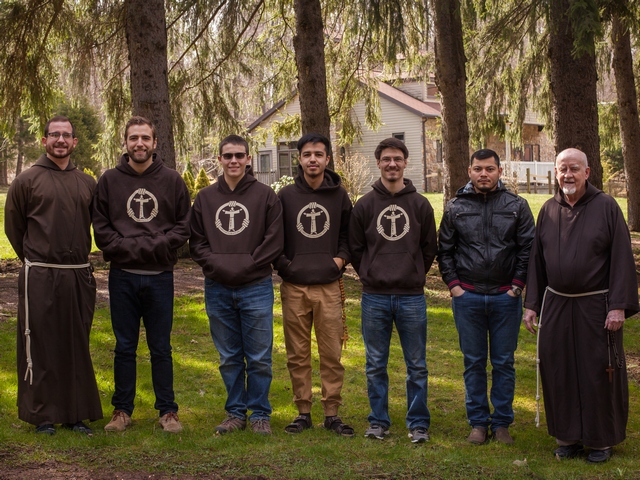 From left to right: 

Alex Hostoffer, Andrew Morken, Ryan Schmeltzer,
Pablo Lopez, Sam Hadjis, Kristhian Guillen and Lester Knoll.
---
Provincial Chapters USA
The next few months will find some of our fellow North American Capuchins gathering for their triennial Provincial Chapters. We promise them a remembrance in our prayers and our fraternal support in all of their deliberations.
May 15-19, 2017 -- Chapter of the 

Province of St. Mary

 (New York/New England), West Hartford, CT
June  5-9, 2017 -- Chapter of the 

Province of St. Joseph

 (Calvary), Chicago, IL 
June 12-16, 2017 -- Chapter of the 

Province of Our Lady of the Angels

 (Western America Province), Danville, CA