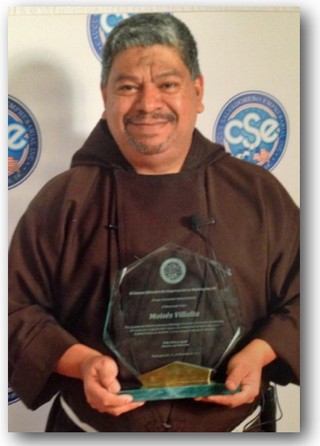 On the first day of November, Moisés Villalta, OFM Cap., received an award from the Caucus Salvadoreño Empresarial at their 8th Annual Legacy of Achievements gala. Moisés was recognized for his years of service to the Latino community in Washington. Out-going DC mayor Vincent C. Gray and Mayor-elect Muriel Bowser attended the event at the Washington Hilton and congratulated our brother who serves as pastor of the Shrine of the Sacred Heart there.
In addition to city officials, the Ambassador of El Salavdor, Francisco Altschul, was also present for the gala-fundraiser and recognized our Salvadoran-born friar. Moisés has ministered to the parishioners of Sacred Heart and the broader DC community for many years. We congratulate Moisés for being recognized for such great work and dedication to the Latino community. Kudos, too, to the parishionersand staff of the Shrine of the Sacred Heart for supporting and encouraging his work for the Gospel among them.
According to its website, "Since its inception, the Salvadorian Caucus has supported the Salvadorian Community and the Hispanic Community in general by contributing resources to different Hispanic organizations in challenging situations, and helping our Salvadorian youth to get education. Last year for instance, we were able to help more than twenty (20) students to continue their education. We would like to continue our growth in order to keep supporting our community . . . , this being over 65% of the Hispanic population in the DC Metro Area."