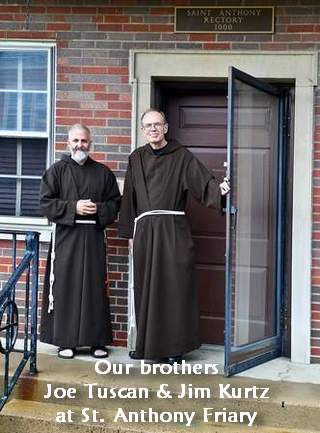 On Sunday, June 14, 2015, a Vespers Service will be celebrated at St. Anthony Church in Charleston, WV, to celebrate and remember the years of service and fraternity which our Province has been privileged to share in the Diocese of Wheeling/Charleston, WV. This article appeared in Charleston's local newspaper, The Daily Mail. We will be highlighting that Vespers Service in the coming days.
---
By Charlotte Ferrell Smith
Photos: Bob Wojcieszak
       After more than a century of ministry and service to West Virginia, the Capuchin friars are leaving the Mountain State this month. Vows as Capuchin friars require they live together in community as brothers, sharing a prayer life and meals. A minimum of three brothers is necessary to fulfill this supportive environment.
      The area has two Capuchin friars serving five Catholic parishes in Kanawha and Putnam counties. The Rev. James Kurtz, OFM Cap., serves St. Anthony on Charleston's West Side and Our Lady of the Hills in Elkview. The Rev. Joseph Tuscan, OFM Cap., serves the Tri-Parish of Holy Trinity in Nitro, Christ the King in Dunbar and St. Patrick in Bancroft.
      Tuscan said he hopes the absence of the friars will be a hiatus and not an end to their historical presence in West Virginia. He said there is "not enough viable work" for more Capuchins to live in the friary next to St. Anthony Catholic Church, but he hopes that will change at some time in the future. "There was speculation that there was a lack of personnel on our part, but that is not the case," Tuscan said. "We have 50 men in seminary formation. We are a growing community."
       Tuscan said leaving the area "was a decision by our superiors. We belong to a religious order and take a vow of obedience. This is a reorganization of ministry. We have hope of the order returning to West Virginia. It is still part of our territory. Our community has a long history of service here for over 150 years."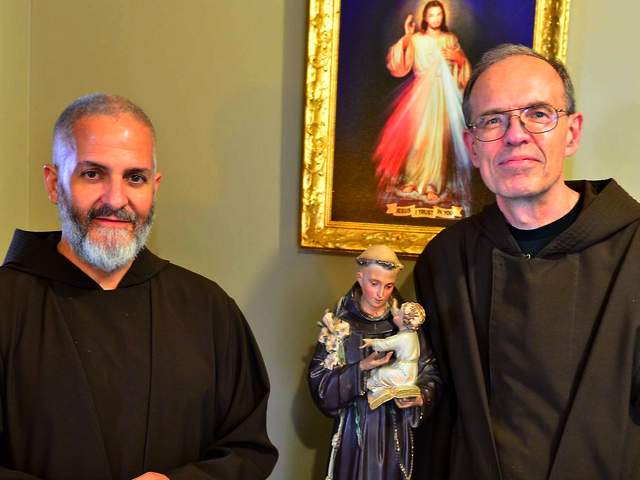 Fr. Joe will step into a new position on July 1 as director of priestly formation for the Franciscan Brothers Minor in South Bend, Ind., near Notre Dame. He said he and Kurtz have been blessed during their time here through relationships with people as well as the diocese and their love for West Virginia.
       Fr. Jim will be going to the Pittsburgh area. He is not yet certain where he will be assigned to serve. While the move will provide a sense of community with other friars as they live in a fraternity, he will miss West Virginia.
       "It is sad," he said. "We've been here over 100 years. Our community has a long history. A lot of Capuchin friars have lived and worked here."
       Bryan Minor, spokesman for the Diocese of Wheeling-Charleston, noted that another friar, the Rev. Albert Alexandrunas, recently retired. He served St. John in Belle and Good Shepherd in Coalburg. He said the friars will be missed and "we do thank the Capuchins for many generations of service here in West Virginia.
       "These priests are from the Religious Order called the Capuchin Franciscan Friars," Minor said. "They have been serving in West Virginia for more than a century. They are organized across the countries, in regions, and each region has a superior who makes staffing assignments. They have served in our Catholic diocese at the invitation of our bishops, and they have been beloved members of our communities for generations."
       Coalburg and Belle have been covered by the Rev. Mark Gallipeau, the priest at Immaculate Conception in Montgomery and St. Anthony in Boomer. St. Anthony in Charleston and Our Lady of the Hills in Elkview will be covered by the Rev. Babu Joseph Elamturuthil, who is currently assigned to St. Stephen in Ona. The parishes in Nitro, Dunbar and Bancroft will be covered by the Rev. Thomas Kalapurackal, who is now associate pastor at St. Francis de Sales in Beckley.
       The Most Rev. Michael J. Bransfield, bishop of the Roman Catholic Diocese of Wheeling-Charleston, expressed his appreciation for the service of the Capuchin friars: "I want to thank the Capuchin Order for more than a century of ministry here in West Virginia," Bransfield said. "While we say goodbye to two wonderful priests, we are aware of the dozens of loyal and dedicated men who served in so many communities across our diocese. Their historical presence has meant so much to our parishes, schools and outreach to the poor."
       A Vesper service will be at 4 p.m., [Sunday], June 14 at St. Anthony Catholic Church, 1000 Sixth St. on Charleston's West Side. A reception will follow.
       In addition to the current Capuchin friars, a number of friars who have previously served will attend. The event is open to the public.
       Contact writer Charlotte Ferrell Smith at 304-348-1246 or charlotte@dailymailwv.com.
© 2015 Charleston Daily Mail
     This site or any portion of this site may not be modified, published, reproduced, duplicated, copied, uploaded, downloaded, posted, transmitted, sold, or otherwise exploited for any commercial purpose that is not expressly permitted by the Charleston Daily Mail. or expressly permitted under copyright law. - See more at: http://www.charlestondailymail.com/dm/TermsofService#sthash.GHiaaEI5.dpuf
---
Read the tribute to our friars who have served in West Virginia
from the Diocese of Wheeling/Charleston's newspaper, The Catholic Spirit.