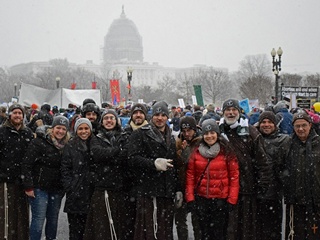 On Friday, January 22, right before the big snow arrived in Washington DC, friars and friends joined the thousands gathered for the Annual March for Life. Per usual, the day began with a Mass in the crypt church of the Shrine of the Immaculate Conception.
The day began, as usual, with a Mass offered in the crypt church of the National Shrine of the Immaculate Conception, down the road from our Capuchin friary. The celebrant was Vocation Director Tom Betz, OFM Cap., and the homily was offered by fellow friar John Pavlik, OFM Cap., who works in DC as the Executive Secretary for the Conference of Major Superiors of Men (CMSM).
Fr. John's homily, using the Readings for the Mass for Life, contrasted the wisdom and foolishness of the quartet of the kings present in them: Saul, David, Herod and Jesus. The two "wise ones" were young. The two foolish were established rulers (Saul and Herod). The latter were threatened by the presence of a young usurper of their power.  Fr. John encouraged the group to the love and mercy of a new kind of power in the reign in Christ which defends the vulnerable and protects the weak ones among us, even if we are considered the fools for doing so.
After the Mass, lunch was served at the friary before the friars and guests made their way down to Washington's Independence Mall for the march.  As they exited the city's Metro reaching their destination,  it began to snow. The rest, of course, is history . . .