You don't know him, but Brother André owes you something.
And every day he strives to repay his debt to you.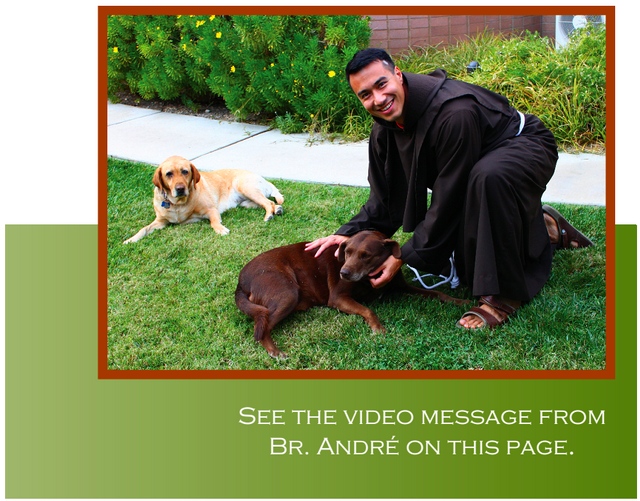 Br. André Repucci, OFM Cap., has changed directions many times in his 35 years of life. From actor to officer, from television to the Air Force, this young man of boundless energy and enthusiasm took up many challenges and enjoyed much success.
And yet, he found little joy or meaning in any of them.
He knew deep inside where he was being led. And he ran the other way. Thanks in part to your prayers, Br. André has stopped running.
He has surrendered to God's gentle, yet persistent call. André has known in his heart where God has been leading him and now he is saying, "Yes, Lord!"
Today he finds himself living with 30 other young men in our Capuchin novitiate in Santa Ynez, California. He believes God has long been calling him. Now he is a Capuchin Franciscan brother whose great energy and enthusiasm is directed toward his new goal of Capuchin priesthood.
Br. André credits the prayers of somany women and men of faith with bringing him at long last to his vocation. As he looks back on his life's journey, his heart f1ills with gratitude and wonder seeing God's gentle and loving hand guiding him.
Just as your prayers and the prayers of countless others have helped bring Br. André to this point in his vocation, he asks you to continue, and to even redouble your prayers for him and his young Capuchin brothers. Prayer is his solid foundation and support. I know he can count on you!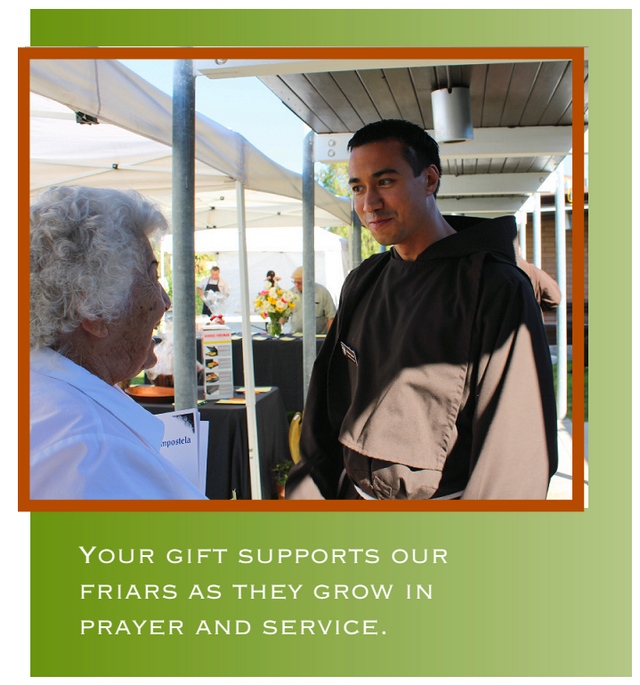 Now our Capuchin province needs your ongoing generosity to help us educate and form these young friars who responded to the call of their vocation that we have prayed for so often. It costs roughly $25,000 per year to spiritually and intellectually prepare a seminarian for the priesthood or religious life.
These young Capuchin friars are being trained, formed and educated so that they can soon fully serve our beloved Catholic Church as priests and Religious brothers.
They will serve in parishes badly in need of priests. 

They will serve the poor and needy in cities and in rural communities.

They will witness to God's love and preach the good news of Jesus Christ to young people on campuses and in parishes.

As soon-to-be ordained priests, they will share their lives with and administer the Sacraments of the Church to a new generation of Catholics.
Br. André is only one of 46 men in Capuchin formation for our province. God is sending us good, holy young men who desire to live their lives as Capuchin Franciscan Friars in service to the Church and God's people. Will you please partner further with us to make sure these young Capuchin Friars receive the religious training they need in order to be "sent forth" in the service of our Church?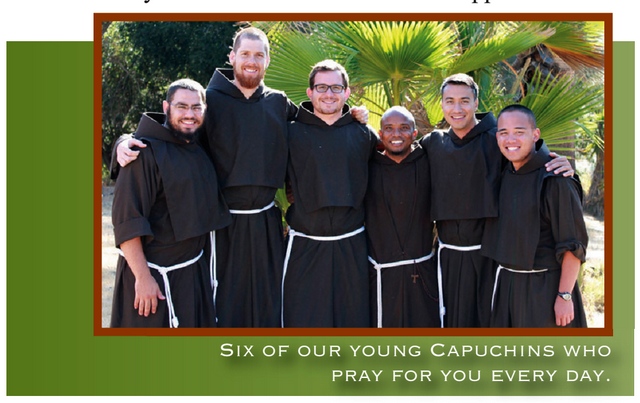 As sons of Saint Francis of Assisi, we have nowhere else to turn for help, but to you, our dear and faithful friends. Your gift supports our brother friars as they grow in their love for the Lord and their desire to serve his people.
Perhaps the Lord will answer our prayers and move some friends to offer $2,500 per month in support of one newly professed Capuchin friar. What a blessing that would be!
• Your gift of $500 would help cover the cost of one week's formation and education.

• Your offering of $75 would help us pay the cost of a seminarian's annual spiritual retreat.

• Your gift of $45 would help us with the cost of school materials and other supplies needed

in their study of theology.
 Your gift of prayer is always most needed and appreciated. We depend upon your prayers, young friars and the senior friars alike! Know that all the Capuchin friars pray for you and your intentions each and every day.
May the New Year of Our Lord be rich in blessings and grace for you and those whom you love. Thank you for your every act of kindness and generosity to the Capuchin Friars.

Profile: André Repucci, OFM Cap. from Capuchin Webfriar on Vimeo.

       Become partners with us in spreading the Gospel through our Catholic heritage in the spirit of Francis of Assisi.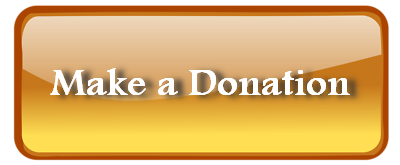 Thank you for remembering us!
Pray for us, as we do for you . . . .