Date of birth

:  July 31, 1935
Place of Birth

:  Pittsburgh, PA
Investiture

:  July 13, 1955
Temporary Profession

:  July 14, 1956
Perpetual Profession

: July 14, 1959
Ordination

:  June 3, 1961
Date of death

:  January 23, 2015
Burial

: St. Augustine Cemetery, Millvale, PA
"From the very beginning of my vocation,
even as early as high-school,
I envisioned preaching
as the core of my ministry."

Letter to Provincial Minister
November 29, 1989

    At the funeral of Bernard Finerty, Fr. Tom Betz, OFM Cap., a friend and former student, made the observation that what struck him about the life of our confrere was that from everywhere he was stationed in his life as a Capuchin, the "Province pulled out." It was an exaggeration, of course. The places did not come crashing down like dominoes.
    "Bernie" spent a good 24 years of his life in Herman, PA, before our high school and college were closed. He stayed there for 11 years as Director of the Retreat Center, trying to build a retreat ministry in a rural area; it ended only when the property was sold, of course.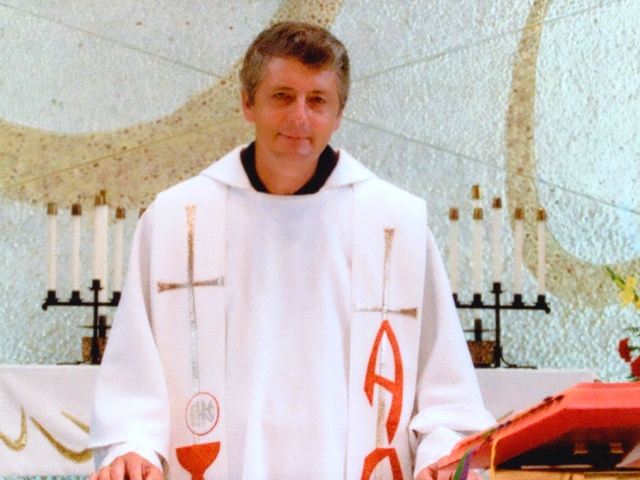 He lived at our Lady of Peace in Conway for 11 years, and the Province respectfully waited 5 more years after his moving on before we "pulled out."
    He was only in Clairton, PA's St. Clare of Assisi for 10 months (where we pulled out eventually), but he did enthusiastically embrace the new ministry in Barto, PA's National Centre for Padre Pio. It was the Diocese who pulled us out after 18 months (long story).
    And don't forget that in Cumberland, MD, although he would see the destruction of the old friary there, with moves to two different friaries where the ministries were realligned, he lived in town for 12 years. Sadly, it was Bernard who pulled out in the end.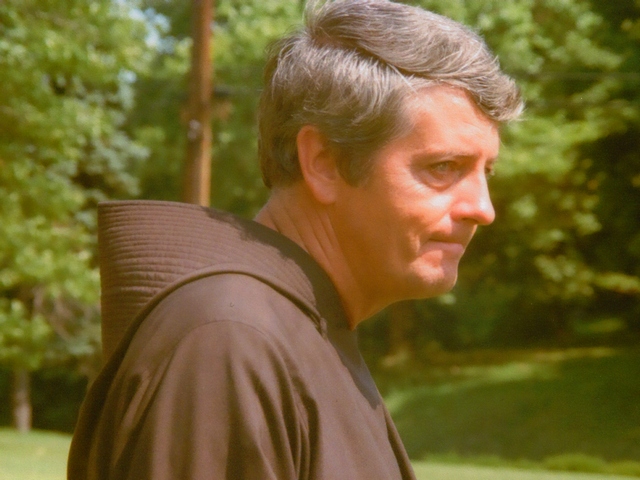 John Paul Finerty was born on July 31, 1935, to John and Pauline (Dieterle) Finerty, and was baptized 'John Paul' to reflect both of his parents' names. As a youth, he loved competition, did well enough in school because of his drive to succeed. His smile and the ability to bond people together with his laugh and humor outweighed the moments when his anger flared on the playground or on the field. One friar described him as a "strong irishman who always knew what he thought," and that attribute flowered from a young age. Because his parish, St. Bernard's in Mt. Lebanon (Pgh), PA, frequently had visiting Capuchins from the nearby friary and because his Diocesan pastor encouraged young men to consider a vocation, young John Paul grew enamored of the friars he would meet. There had been and were to be other Capuchins who found the seed of their vocation there in the "Cathedral of the South Hills." In a song he would write later in his life, "Gifts Left Unto Me," the friar reflected on the memories of his father:
He never made money, but daddy was funny;
he always hung on to his pride.
He held up his head, and he meant what he said.
He was true till the day that he died.
He knew he could wait 'til he found the right mate;
he married at age thirty-five.
'Twas then he met mother; there'd be no one other,
Thank God: that's why I'm alive.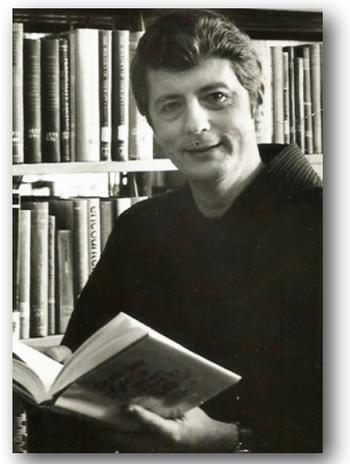 He had a deep respect and love for his parents, and he was proud of his Irish heritage, even if his mom was of German descent. His elementary school experience encompassed the darkest years of World War II, and his American pride was strong because of those who returned in the war, and those who did not, with the tales of their bravery.
    In 1955, he was invested in the habit of the Capuchin Order where he took the name 'Bernard,' a name that he would keep even after many friars returned to their family names after the Capuchin Constitutions of 1968. Professing his first vows in 1956, he returned to St. Fidelis to complete his philosphy major at the seminary before moving on to Capuchin College in Washington, DC, and theological studies. He was ordained to the priesthood on June 3, 1961, in the National Shrine of the Immaculate Conception there.

    The Provincial Definitory recognized that Bernard had an enthusiasm for working with youth, a love for his vocation and a talent to encourage and affirm young people. Assigned to St. Fidelis Seminary High School in Herman, he spent his first year as a Teacher and Prefect of Discipline even while completing a Masters of Education from Duquesne University in Pittsburgh, PA. To say he was driven would be an understatement.
    Bernard spent 17 years with his heart at St. Fidelis, punctuated only by the Province's desire to see him as part of the novitiate team to work with Novice Director Brendan Malloy, OFM Cap., from 1968-1969 in Annapolis, MD. It's not strange that he came back to Herman to preach the Seminary retreat that very year. He would return to his work at the seminary a few months after that. His connections with Herman were strong and would remain so to encompass his first 26 years of ministry.
    Students knew of his affirming words as much as the strength of his reprimands. He was not shy about raising his voice, pointing a finger or throwing out a sarcastic line, but Fr. Bernard was never one to hold the grudge or to allow his anger to fester for long. Students would know him best as a Latin teacher who stuck with them through the initial years of sorting out declensions and conjugations.
    In 1965, the Province asked Bernard to serve as "Coordinator of Education Programs," a task he accomplished despite his "day jobs." All of our Provincial institutions, like Toner Institute, Auberle Home, St. Francis Seminary in Kansas and St. Joseph Military Academy often functioned independently from any vision of consistency for Provincial commitments. He would maintain that responsibility until 1974, a period of flux and new challenges for all of them.
    Change at St. Fidelis would include the reforms of the Liturgy called for by the Vatican Council and its implementation. Bernard would welcome the Church's liturgical updating and its gradual realization beginning in the mid-sixties. He knew how to lead an assembly to full participation. His voice was a gentle second tenor's which perfectly suited English chanting, and his homilies were practical, heartfelt, engaging and inspirational.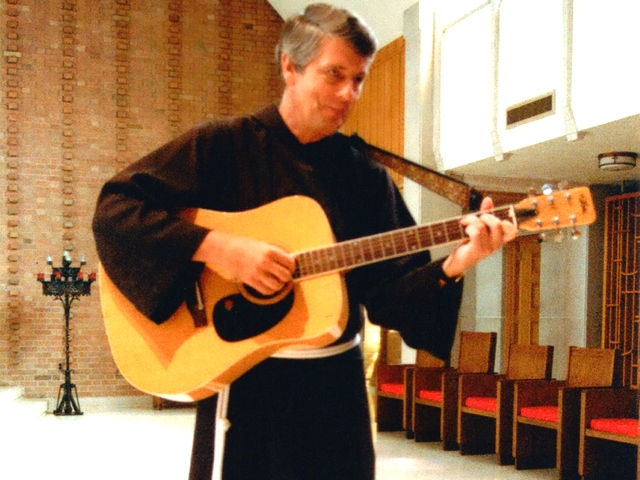 The folk idiom which Bernard so embraced, his love for the music of the Kingston Trio, Peter, Paul & Mary and Paul Simon, offered a medium which spoke to the hearts of the new generation of seminarians. Music filled his soul. In the hallways or on the ballfield, he was seldom without a song or melody running through his head or emanating from his mouth.
    With guitar in arm, he was nothing if not a Franciscan troubadour. Songs like "How Good the Lord," "God is" and "Virgin of Love," made it to the St. Fidelis Hymnal compilation. The announcement of the hymn "God is" would often bring a smile to the faces of students, as the lector would direct: "The opening hymn is 'God is' in the binders on page 35." The lector seldom made the quotation marks verbally, of course, so the song was jokingly renamed "God is in the Binders."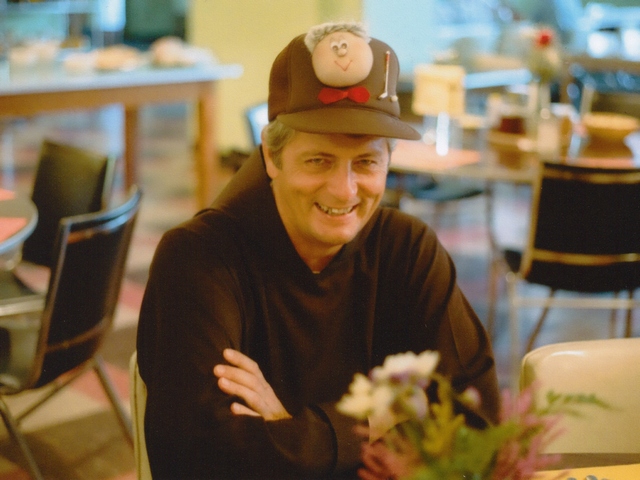 Bernie was also an avid sportsfan and player. From baseball as a kid to softball at St. Fidelis and from the basketball to the raquet ball courts, he was a tough competitor, ecastatic in victory and tormented in defeat. One sometimes wondered if the anger that would overcome him at losses emerged more from frustration over his own performance or from anger at the adversary. Nonetheless, he always seemed to find a fault with any competitor who was actually winning. The passion which he showed in sports did not show itself any less in the battles he fought over controversial issues in the Province.
    The decision to close St. Fidelis was a challenge for Bernard to accept. With a number of supporters in the Butler area, Bernard tried to convince a dubious Provincial Council that keeping St. Fidelis open would be one way to revitalize our Capuchin work with high school students. It could be re-shaped into the sole Catholic High School in the county. He defended it in every way possible, encouraging new plans to inspire vocational recruitment or proposing monetary ways to "make it work." Low enrollment and budget numbers were working against his case in the late 1970s and early 1980s. First, St. Fidelis College was closed in 1979, and the high school followed suit in 1980 at the decision of the provincial leadership.
    Remaining at St. Fidelis for the next eight years, Bernard was charged with initiating a newly founded Retreat Center. His desire was that the Capuchin home at St. Fidelis could continue as a spiritual beacon in the area. His work with confrere Fr. Angelus Shaugnessy, OFM Cap., a popular preacher in his own right, would prove to be successful in attracting groups and keeping the buildings in use and useful. But, the Province of St. Augustine was experiencing its own financial struggles, as was the country, during these years. Leadership looked for an opportunity to sell the property if a buyer could be found. Bernard was adamant:
"To sell St. Fidelis is a serious misjudgment and would be an irreparable mistake. No one who has discussed the sale of St. Fidelis with me, even after hearing all the reasons proposed by the definitory [council] has agreed that it is a proper move . . . So far, in my experience at St. Fidelis, the only votes to discontinue our retreat programs and sell the facility have been from Capuchins. No one else. Only Capuchins." (March 4, 1985)

    Disappointment with the friars, and with what he perceived as provincial sentiment against him, caused quite a few years of hurt and anger towards the brothers. He felt they were making an irreparable mistake – and destroying what he was trying to build. "I think it's clear that we are possessed of something good. Why not make it something great?" But the Province moved forward with the sale of the property.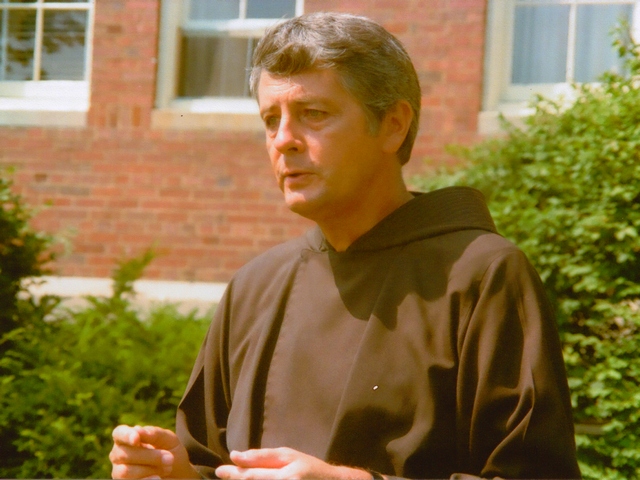 It was time for Bernard to hit the road. Though at one time, when it was proposed by a friar that he "hit the road" as a traveling preacher, he wrote to the Council: "I do enough traveling to know that full-time mission/retreat work on the road (i.e., living out of a suitcase) is not for me. It either makes fraternity impossible, or leaves one with little work to justify the assignment" (November 29, 1987). With time to reconsider, he accepted his first major transfer from Herman, PA, living in the small community of friars of Conway and Rochester, PA, for the next 11 years. He accepted many retreats and days of recollection and would return home to a small fraternal life as much as possible.
    In 1999. he accepted an extension of this ministry when the National Centre for Padre Pio in Barto, PA, reached out to our friars to work among the pilgrims attracted to the soon-to-be-beatified Capuchin. It was a blow to the friars assigned in this new endeavor when a conflict grew between the Centre and the Diocese of Allentown. The friars were caught in the crosshairs and, after only 10 months, were reassigned to other ministries in the Province.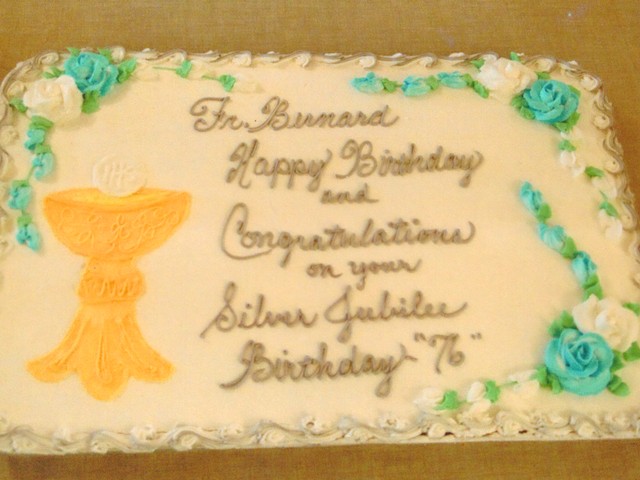 Bernard then returned to life as a traveling preacher in early 2000 with Clairton, PA, serving as his home base. A subsequent offer to accept the leadership of the Paul VI Pastoral Center in Wheeling, WV, felt like something he could handle. He would work with the Center for only 2 years. He felt himself aging (at 67), and attempting to save the Pastoral Center with its unfavorable location and its difficulty in attracting interest among the sparse and dispersed Catholic population was too reminiscent of previous battles lost. He moved to the fraternity in Cumberland, MD, in 2003, and served variously as parochial vicar and/or guardian for the next 12 years. He made it his home.
    Bernard Finerty suffered from alcoholism. He didn't always know he was suffering, but he was grateful to the Provincial leadership who had asked him to enter a care facility to address it. Alcohol had become a way to deal with his hurt, to numb his anger and to ease his doubts, and he would talk freely of his newfound "freedom" from the disease. He was more positive, more accepting of the brothers and more affirming of fellow friars. He thought of his final years in Cumberland as a "rebirth," and friars who knew him for many years knew of the change.
    Bernard's treatment and newfound "day at a time" spirituality would enable his calm acceptance of the health issues which would plague him. He suffered from a number of spills, a broken ankle and a broken hip, always radiating an air of "gratitude" for the brothers of the fraternity who cared for him. The friars made adjustments so that he could continue in the fraternity with the merger of the Cumberland churches into "Our Lady of the Mountains Parish." The people loved him. His music ministry and creativity flourished. He produced an album with his own songs accompanied by spiritual reflections in "Open My Heart."
    During several months of rapidly declining health in 2014 and the onset of dementia, the friars of his fraternity would speak of how Bernard always responded to music. His guardian, Greg Chervenak, OFM Cap., made sure that the sounds of Paul Simon and Peter, Paul & Mary would surround him. Even if he could not always respond to a visitor's presence, he could be found humming or moving his body to music.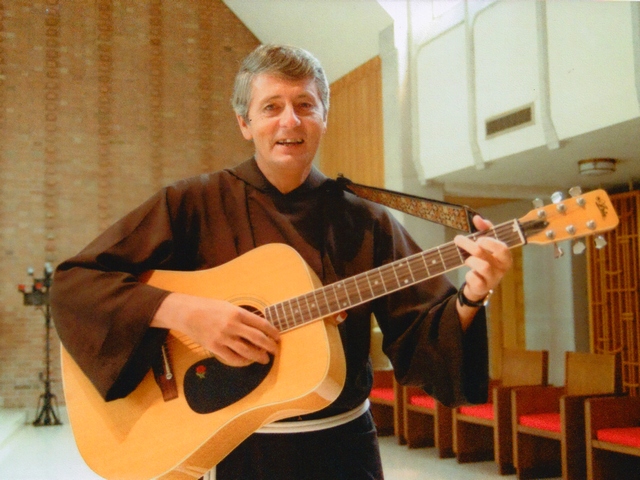 He sang his way to Sister Death on January 23, 2015.
    Don't worry, Bernard. None of the "dwelling places" the Lord promised us will be closed or sold; no one in the Province has plans of "pulling out" of Paradise. While many of your songs will still be sung and your efforts remembered here, we know that you've found an eternal, permanent home where music reigns supreme.
    The lyrics Bernie wrote in "Gifts Left Unto Me" were meant to sum up, in hindsight, the wisdom that Bernard Finerty learned for his own journey in faith from his dad:
He wanted his family to know well and plainly
the lessons of living with grace:
respect for the lowly, a sense of the holy
and time for a friend any place.
Yes, living and dying were part of his story,
but loving and trying his promise of glory
and who can I blame if my life is unhappy but me?
Each day is a flower of wonder and beauty;
Each life is a mystery of dancing and duty.
Yeah, these are the gifts that my daddy left unto me.

    In hearing them, it's not hard to see what his own life has "left unto us."
View the photo gallery and poetic tribute:
Remembering Fr. Bernard