View the photo gallery
and poetic tribute:
Remembering Fr. Bernard


(updated 02/18/2015)
       Our brother Fr. Bernard Finerty, OFM Cap., died on Friday, January 23, 2015, in Cumberland, MD, following several months of rapidly declining health. He was 79.
       He was born on July 31, 1935 to John and Pauline (Dieterle) Finerty, and was baptized 'John Paul Finerty' to reflect both of his parents' names. He was preceded in death by his parents and his sister Mary Patricia Norton. He leaves to mourn his passing his sister, Carol Sherry, and her husband Jack, his brother Gregory and his wife Mary Ann, and many nieces and nephews.
       After attending the parish grade school, St. Bernard's in Pittburgh (Mt. Lebanon), PA, he entered St. Fidelis Seminary in Herman, PA. In 1955 he was invested in the habit of the Capuchin Order where he took the name 'Bernard', and in 1956 professed his first vows as a friar. Bernard received a degree in theology in 1962 from Capuchin College in Washington, DC, and was ordained to the priesthood on June 3, 1961, in the Basilica of the National Shrine of the Immaculate Conception there.
       After attending Duquesne University in Pittsburgh, earning a Masters of Education, he was assigned to teach at St. Fidelis Seminary, Herman, Pa, where he was to take on various tasks for the next seventeen year, including Dean of Studies. Being a fine athlete himself, he helped to coach the school's athletic teams (and hated to lose!).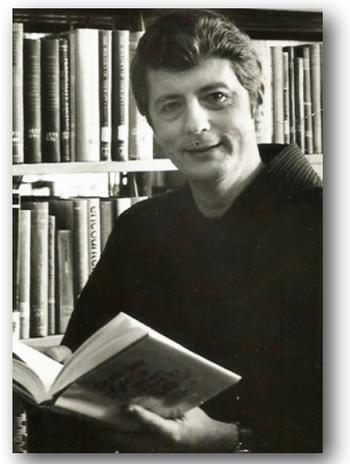 Bernard loved to sing and was a particular fan of his guitar idols the Kingston Trio, Peter, Paul & Mary, and Paul Simon. Fr. Bernard composed songs for worship, most notable among them were songs known by many friars and students throughout these decades: "How Good the Lord," "God Is" and "Virgin of Love."
       Fr. Bernard thoroughly embraced his ministry at the seminary and enjoyed the friendship of his confreres on the faculty. He was an inspiration to the many students who attended the seminary from 1963 until 1980, and when the school closed, the decision was a challenge for him to accept.
       Remaining at St. Fidelis for the next eight years to direct the newly founded Retreat Center, he was a popular preacher of retreats, parish missions and recollection days. In 1988 he moved to Our Lady of Peace Friary in Conway, PA, which served as his base as he traveled throughout the country to preach.
       In 2000, he relocated to St. Clare Friary in Clairton, PA, and continued his preaching ministry, and after one year, he was named the director of the Paul VI Pastoral Center in Wheeling, WV, coordinating retreats and conferences there, while actively maintaining a vigorous preaching calendar.
       Bernard was assigned as parochial vicar at SS. Peter and Paul Parish in Cumberland, MD, in 2003 and would remain there until his death. In 2011, when the Catholic parishes of Cumberland were united as one parish, Our Lady of the Mountains, Bernard was named to the new pastoral staff. He had a great fondness for the people of SS. Peter and Paul Parish and subsequently the parishioners of Our Lady of the Mountains. He found great support among the people he served, many of whom regarded him as the best priest they had ever known.
In lieu of flowers, donations in honor of Father Bernard may be made to The Capuchin Friars, 220 37th Street, Pittsburgh PA 15201. For those who would choose to make a donation in his memory, you may also do so online here.
Fr. Bernard wrote this in his song, 'How Good the Lord':
Praise, praise to our God, sing out his name, Father above.
True, true is his word, promising life, telling of love . . .
Oh how good is the Lord our God!
May the Lord embrace him and greet him with the melody of eternal life and love.
---
Funeral Arrangements
Cumberland MD
Visitation and Viewing
Monday, January 26, 2015
Shrine of SS. Peter & Paul

125 Fayette Street
Pittsburgh PA
Tuesday, January 27, 2015
The body will be received at
St. Augustine Friary

221 36th Street
Visitation and Viewing
St. Augustine Friary
Tuesday, January 27, 2015
   2PM to 4PM and 7PM to 9PM
Mass of Christian Burial
Wednesday, January 28, 2015
St. Augustine Church

228 37th Street
Interment in the friars' plot
of St. Augustine Cemetery, Millvale, PA
following the funeral Mass.