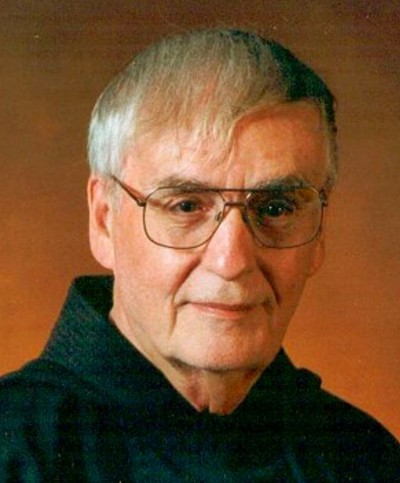 Date of birth

:  February 14, 1927
Place of Birth

:  Chicora, PA
Investiture

:  July 13, 1948
Temporary Profession: 

July 14, 1949
Perpetual Profession

: July 14, 1952
Ordination

:  June 5, 1954
Date of death

:  March 8, 2015
Burial

: St. Mary Cemetery, Herman, PA
"It is my personal feeling
that we should recognize
the special gifts that God gives our men
and not frustrate their cultural leanings
when these can be employed
in the service of the Church."

Fr. Giles Staab, OFM Cap.
May 5, 1962

    Talented. Creative. Gifted. Inquisitive. Quiet. Impulsive. Confusing. Caring. Sensitive.
    All these words were applied to our brother Charles Knoll at one time or another. "Misunderstood" comes to mind as well – but aren't all creative and talented people misunderstood at some time or another? They don't quite fit into the box of most people's expectations, and Charles certainly felt himself "misunderstood." A brilliant musician, he tried to convince a Provincial and his Council in 1959 that a pipe organ would be the best investment for the novitiate chapel in Annapolis, MD. The Council, of course, thought it would be impractical and expensive. "Charlie" was unable to conceive that others could possibly value practicalities like money  or budgets over what far transcended them: art, beauty and goodness.
    The one place where Charlie felt the peace of transcendence, beyond the expectations and obligations of practicality, was on a bench facing a keyboard. Many knew his work at the organ and at the piano to be near genius. The "art" of it all took him beyond the complexities of his own life and those of others. His spirit was best epitomized by a "jazz sensibility," a musical form of which he was particularly fond: impromptu, impovisational, creative and unorthodox. He was truly an "artist." With an eclectic talent as musician, poet and painter, Charlie responded to inspiration, not to duty; to impulse, not to planning. An artist needed "space" and flexibitlity to ride the waves of inspiration, and it may well be the reason why so many unique Capuchins of his ilk often had a hard time fitting in to "normal."
    Chicora, PA, the town where Charles Knoll was born on February 14, 1927, seems a far cry from the free-thinking places where he would be exposed to a world larger and more eclectic than his youthful hometown. It wasn't that his family was small. He was born of Francis and Mary Alice (Black) Knoll as the second of twelve children:  five brothers (Francis, John, Thomas, Donald ["Ed"] and James [Fr. Lester]) and six sisters (Agnes Patricia [Pfaff], Mary Therese [Geibel], Monica [Glynn], Rita [Barnhart], Bernadette [Huefner] and Donna ["Betty" Neff]). He was raised into a community of unique persons, and he would unknowingly receive his life's most precious gift from his older sister. You see, Agnes took piano lessons.
    There was always an upright piano in their home, although before Agnes, only an aunt was known to have played. Young Charles never took a lesson before he entered high school. But he had already played well, because he watched and listened and eventually surpassed his sister in skill, even though she was 20 months older than he. She played, and some inborn magic or grace in Charlie's spirit took it from there. His younger sister, Rita, was to come along and would grow to be a concert pianist. Family members remember their later competitive recitals when they gathered at the family homestead.
    Charles attended the public grade school in Chicora, PA, and Fr. John J. Hughes was the pastor of the family's parish church, Mater Dolorosa. Hughes was a strong, loving pastor, admired by many in the small town and among Catholics and Protestants alike. He had a warm relationship with the friars at Herman, PA, and encouraged altar boys to make the summer retreats which were held for possible candidates at the seminary. It was due to his pastor that other friars like Frs. Didacus Joseph Dunn, Francis Fugini and Charlie were drawn to St. Fidelis. His brother, James, the future "Lester Knoll," would later take the same path.
    Following Charlie's six years of studies in Herman, Pa, he donned the habit of a Capuchin in 1948, taking the name "Br. Aloysius" from his father's middle name, and he professed his first vows in 1949, moving on to philosophy studies in Kansas and theology studies in Washington, DC. With his final profession in 1952, he was ordained with his classmates to the priesthood in 1954 at the National Shrine of the Immaculate Conception in Washington, DC.
    Because of Fr. Charles' pre-occupation with music and his timidity in relationships, his first assignment as teacher and prefect of discipline in 1955 now seems a stretch. Certainly, working with music and leading high school students in choir was great practice for him, but he would be relieved of his job as prefect within two years. It was obvious that his performance as a disciplinarian lacked a traditional German precision and created tension and sleepless nights for someone just out of studies himself. The young priest was restless and felt restricted by community demands and school schedules. Already in the summer of 1959, he would write to a newly elected Provincial and Council requesting "to spend a full year or so in the study of sacred music and liturgy." The Holy See had produced its Instruction on Sacred Music and Sacred Liturgy (De musica sacra) the previous September, anticipating a renewal which would be far more encompassing a few years hence with the Second Vatican Council. Charlie wrote: "This is an area of apostolic work in which (not of myself but by the help of God) I have been naturally gifted and, in which, with adequate education, I should be able to contribute a substantial measure of scholarship and honor to the Province."
    The Council, under the leadership of Fr. Giles Staab, OFM Cap., refused his request in the face of challenging personnel needs. It was the first of many blows to Charlie's expectations and hopes, but the musician's talent was becoming increasingly recognized by others outside the community: there were numerous recitals offered in Herman's Butler County, as well as in the Pittsburgh Diocese and in Washington, DC. It was a professor of music at DC's Catholic University who encouraged him to apply for a Fulbright Scholarship, the prestigious government grant offered to support American study abroad.
In his letter to the General Minister in Rome seeking permission for Charles to accept the grant, Fr. Giles wrote: "Fr. Aloysius is teaching in the minor seminary, but he is one of those dedicated characters so lost in the art of music that he is inefficient in his other teaching. It is my personal feeling that we should recognize the special gifts that God gives our men and not frustrate their cultural leanings when these can be employed in the service of the Church." Noting that the Director of Music for the Pittsburgh Diocese view the young Capuchin as an "unusually gifted and valuable man," Fr. Giles received the permission of the General Minister to accept the Fulbright scholarship for one academic year (1962-1963) at Hochschule für Musik und Tanz Köln, of Cologne, Germany - to this day, Europe's largest academy of music.
    The friar's year in Germany was so freeing and stimulating that he requested yet another year abroad, even though the Fulbright scholarship could not be extended.  The Provincial felt it "better for you to return at the termination of [the grant]." Citing the need for friars "to help out in parochial positions," he did offer that "it may be possible at some future date, when we are not so pressed, that further opportunities can be given you." Charlie would remind future ministers of many a "future date" proposal.
    Returning to the US, it was clear that Charlie was not happy, and there was no Provincial position which seemed to be a perfect fit. In 1963, he was first stationed in Pittsburgh, juggling part-time work at Herman's seminary as a music teacher with his work as assistant hospital chaplain in Lawrenceville (Pgh). The following year he was moved back to Herman, and after only a few months was named administrator of St. Joseph Parish in Cabot, PA. He continued sporadic work at the seminary with an assignment as parish assistant to St. Mary Parish nearby from 1964-1967.
The Definitory thought that a move to Capuchin College in Washington, DC, might allow him to study at Catholic University's music school while directing the liturgical music for the student friars and novices in DC and Annapolis, MD (1967-1970). Charlie received a Masters in Music from CUA. At 43, however, while he became more certain that he should be free to develop his music career, he became more convinced that the Province and its friars neither understood nor supported him.
    Requesting a year's leave of absence in 1970, he took a job at National Bank of Washington's loan department and found a part-time teaching stint in the DC Public Schools. When he returned to the Province in 1971, he was assigned with the friars of St. Francis Friary in Pittsburgh's Mount Lebanon. In Pittsburgh, he was to have what would be his longest and more productive assignment while working for the Catholic Diocese. At first, he was a Music Consultant and teacher and eventually he was a part of the Diocesan Worship commission. In the book From Organist to Pastoral Musician: A History of Church Music in the Catholic Diocese of Pittsburgh, 1843-2006, the authors (James Chepponis, Fred Moleck, Cynthia Serjak) cited Charlie's work as foundational for the Diocesan liturgical renewal and for defining a musician's role in that period of post-conciliar reform:  
    An accomplished organist, Fr. Knoll played recitals in diocesan churches, and served as chaplain of the Pittsburgh chapter of the American Guild of Organists. He coordinated music for the funerals of priests, and for several years taught classes in liturgical music at St. Paul Seminary. Fr. Knoll also led music workshops in parishes . . . .
    Fr. Knoll presented cantor workshops throughout the Diocese. He edited a monthly diocesan music newsletter, Music News and Ideas. The newsletters included announcements of upcoming events, hymnal reviews, organ repertoire lists, news of local organ dedications and copyright information. Also printed were a sample contract for church musicians, an article on the revival of the ministry of the cantor, musical suggestions for Lent and the Triduum, and a bibliography of papal documents on sacred music. New music was occasionally printed and made available to parishes, including compositions written by local musicians.

    Despite job fulfillment, Charlie's fraternal life continued to be an ongoing challenge. After only a year and a half at St. Francis Friary, he was given permission to do his work in Pittsburgh while residing in the Rectory of a local parish, not far from the Diocesan offices. The diocesan priest with whom he lived made no relational demands and gave him the freedom of movement he preferred. Forced to return to friary living by the Provincial Council in 1978, he decided to apply for incardination and exclaustration and was granted an extended leave of absence in March, 1979.

    Now, living a totally independent life, Charlie accepted work as the Music Editor for Chicago's World Library Publications, a liturgical music publisher whose revision of the popular People's Mass Book was underway. For the next 5 years (1979-1984), Charles Knoll would help birth the new edition, planning its content, writing accompaniments for the work of new composers and offering workshops for its use in parishes.

    Vacillating between a decision to live his life as a layman or to return to his roots as a friar, our confrere sought the guidance of counselors and fellow clergy. He ultimately decided to return to the Province, writing to General Minister Flavio Carraro, OFM Cap.: "My principal motive for returning was to be a Capuchin friar. My priesthood ministry, in the usual and traditional sense, is minimal. My Provincial superiors understand this. I believe this is the Lord's will for me."
For the next 30 years, six of which were to be covering the hospital visits of Catholics in Cumberland, MD, Charlie was in "Pastoral Supply" and/or the "Ministry of music" in  Allison Park, PA, in Export, PA, and in Washington, DC. He helped out when he could, but he was admittedly uncomfortable in his public function as a priest. He preferred one-on-one encounters, and his increasingly weakened hearing exacerbated the friars' impressions that he was distant or remote. At one point, he served as a chaplain at Regency Hall Nursing Home among the Vincentian sisters (1993). As a part-time chaplain at the Motherhouse of the Millvale Franciscan Sisters (1994-1996), he had yet another opportunity to spend a year of study at Duquesne University – this time for a study of Music Therapy for the Aged. He also took part in the 1996 Capuchin Heritage Program in Rome and Assisi. Needless to say, he took advantage of many opportunities for conventions, meetings, courses and workshops, giving recitals when circumstances allowed.  

    Those courses and workshops didn't stop when he moved on to his "official" retirement in 2001 at the age of 74. He attended a personal "sabbatical program" at St. Meinrad's School of Theology (Fall 2004) and a program of "intensive Spanish" in the Mexican-American Cultural Center in San Antonio, TX (2005). He spent seven retirement years as a member of Washington DC's Capuchin College until issues of health forced him to accept the care he needed at Carroll Manor nearby (2008-2009). He returned to Pittsburgh and St. Augustine Friary in 2009, but moved to the skilled nursing care of Vincentian Home in the North Hills of Pittsburgh within two years, a place whose isolation he welcomed. He was more comfortable living with those he felt to bear no judgment and who would not demand too much personal involvement. After nearly four years in residence, he quietly passed away on March 8, 2015, at the age of 88. Charlie's funeral Mass was celebrated on the following March 12th at St. Mary of the Assumption Church in Herman, PA, where he was buried in the Friars' Plot of the parish cemetery.

    In 1959, Charlie had authored an article for the scholarly periodical, Franciscan Studies. Entitled "Some Capuchin Views of, and Contributions to, Sacred Music," the article gives us a clue as to what animated and sustained Charlie's artistic path. He felt himself a Franciscan at heart, despite the discomfort he would feel in the confines of fraternal expectation. He wrote of St. Francis Assisi and of the latter's call to allow the music of the Lord's goodness to be heard by every man and woman:
    History shows us that [Francis'] musical background is one of the reasons why the Order appealed so strongly to that exceptionally musical and poetic period. It explains why many gifted musicians joined the Order and dedicated their song, which they had once sung in praise of knightly adventure and love of fair lady, to the praise of the Eternal Knight and the Mother of God.
    St. Francis wished to cultivate the spiritual song for the sake of spiritual joy. He called himself the joyous minstrel of the Lord; he deplored deeply that musical instruments served any other purpose than to sound the praises of God. "Joyous minstrels of the Lord" is the title he gave to his disciples. "We are the minstrels of God who should lift up the hearts of men and move them to divine joy." (Aloysius Knoll, OFM Cap., Franciscan Studies, Volume XIX, 3-4 (1959), pp. 325-333).

    Francis of Assisi would certainly have understood Charles Knoll. Charlie also framed the life of Francis in a way that betrays how central a role music played in his experience of "joy." How else will the Gospel message come to human hearts without a language that speaks to hearts? As St. Francis said, "What ARE we servants of God, if not his minstrels?"

    Charlie heard the music, and oh, that minstrel played.