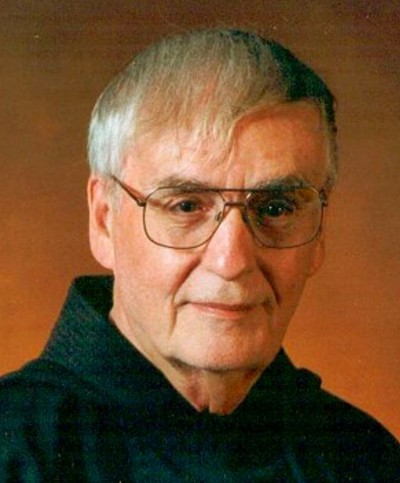 Fr. Charles Knoll, OFM Cap., age 88, quietly passed away on Sunday, March 8, 2015, at Vincentian Home in Pittsburgh, PA. 
       He was born to Francis and Mary Alice (Black) Knoll on February 14, 1927, in Chicora, PA. He was one of twelve children. Father Charles was preceded in death by his parents; a brother, Francis; and his sister, Mary Agnes Pfaff. He is survived by sisters Mary Therese Geibel of Chicora, Monica Glynn of Baltimore, OH, Rita Barnhart of Rye, NY, Bernadette Huefner of Franklin, PA, Donna Neff of Butler, PA; brothers John, Thomas and Donald, all of Chicora, and Fr. Lester Knoll, OFM Cap., a member of the formation team for the Capuchin Formation Program at Borromeo Seminary in Wickliffe, OH.  In addition, his brothers-in-law and sisters-in-law, and his many nieces and nephews and their children also mourn his passing.
       Our brother Charles attended the public grade school in Chicora, and entered St. Fidelis Seminary High School in Herman, PA, in 1942. He entered the Capuchin Order in 1948, taking the name "Br. Aloysius" from his father's middle name, and professed his first vows on July 14, 1949. Three years later he made his final profession and was ordained to the priesthood on June 5, 1954, at the Basilica of the National Shrine of the Immaculate Conception in Washington, DC.
       In addition to earning degrees in philosophy and theology, Father excelled in liturgical music. He was a Fulbright Scholar for musical studies in Germany in 1963. He later pursued further studies in music at the Catholic University of America, gaining a Masters in Music in 1967. He continued post-graduate studies at the university until 1970 and attended Duquesne University to study music therapy.  In 1968, he returned to his baptismal name "Charles," when permitted by the revised Capuchin Constitutions.
       His first priestly assignment was at St. Fidelis High School Seminary as instructor and prefect of discipline, a post he held for seven years. Following his studies in Germany, Charles returned to serve as an assistant hospital chaplain and seminary professor in Pittsburgh.
       In 1970, he was appointed director of liturgical music at Capuchin College in Washington, DC, and St. Conrad Friary in Annapolis, MD. From 1971 to 1979 he ministered in various Pittsburgh area parishes and simultaneously served in various capacities as a specialist in music andl worship (see the Pittsburgh Musician memorial below). He lived in Chicago from 1979 to 1984 and was employed by J. S. Paluch and the World Library Company there as a liturgical music specialist and was music editor for the The New People's Mass Book, a revision of the popular music resource for parishes after the revisions of the liturgy. 
       In 1984 he was named Health Care Minister for SS. Peter and Paul parish in Cumberland, MD. In 1993 he served as chaplain at Regency Hall Nursing Home and part-time chaplain at the Motherhouse of the Millvale Franciscan Sisters. His last assignment in active ministry was at St. Mary Parish in Export, PA, where he also served as director of music ministry.
       In 2001 Fr. Charles returned to Capuchin College in Washington to begin his retirement, and in 2009 he moved to St. Augustine Friary in Pittsburgh. Due to declining health, he has been a resident at Vincentian Home for a number of years.
---
From the Pittsburgh Pastoral Musicians:
       The following is an excerpt about Fr. Knoll from the book From Organist to Pastoral Musician: A History of Church Music in the Catholic Diocese of Pittsburgh, 1843-2006:
       In 1972, Bishop Vincent Leonard appointed Fr. Charles Knoll, OFM Cap., as Music Consultant for the Pittsburgh Diocese and Chairman of the Music Committee, a position he held from 1972 until 1979.  
       Fr. Knoll coordinated a number of diocesan music events that were held at St. Paul Cathedral and other venues, including the closing Mass of the year of preparation for the Holy Year celebrated at the Civic Arena in December of 1974. He also coordinated the gathering of singers from Pittsburgh area parishes to take part in the 1976 Eucharistic Congress held in Philadelphia.
       An accomplished organist, Fr. Knoll played recitals in diocesan churches, and served as chaplain of the Pittsburgh chapter of the American Guild of Organists. He coordinated music for the funerals of priests, and for several years taught classes in liturgical music at St. Paul Seminary. Fr. Knoll also led music workshops in parishes.
       Since the revived ministry of cantor was in its infancy, Fr. Knoll presented cantor workshops throughout the Diocese. He edited a monthly diocesan music newsletter, Music News and Ideas. The newsletters included announcements of upcoming events, hymnal reviews, organ repertoire lists, news of local organ dedications, and copyright information. Also printed were a sample contract for church musicians, an article on the revival of the ministry of the cantor, musical suggestions for Lent and the Triduum, and a bibliography of papal documents on sacred music. New music was occasionally printed and made available to parishes, including compositions written by local musicians.
---
Funeral Arrangements
VISITATION
Saint Augustine Friary
221 36th Street
Pittsburgh, PA 15201
Wednesday, March 11, 2015
2:00 pm – 4:00 pm
7:00 pm – 9:00 pm
Wake service at 8 pm
MASS OF CHRISTIAN BURIAL
Saint Mary of the Assumption
821 Herman Road
Butler, PA 16002
Thursday, March 12, 2015
11:00 am
Burial will follow the Mass in the Friars' Plot of St. Mary's Cemetery