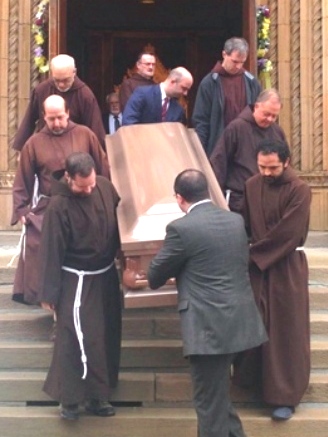 On Wednesday evening family and friends filled the chapel of St. Augustine to over-flowing for the Vigil of Prayer for +Phil Fink, OFM Cap., who passed away last Saturday. Leon Leitem, OFM Cap., Vicar of the fraternity of St. Augustine, led the reflections by pointing to Phil's courage and life of service. A number of others shared their memories of Phil, including a woman who eloquently thanked him for the compassion and support he offered to mothers and fathers at Rachel Vineyard Ministries' retreats. 
       Throughout the day of visitation and again at the funeral, family and friends were joined by former students who were taught and guided by Phil throughout the years. Many women religious, especially Sisters of St. Joseph and Franciscan Sisters of Milvale, were well-represented among the mourners at the vigil and funeral Mass.
       On Thursday morning more than 60 friars joined over 300 family and friends for the Mass of Christian Burial, bidding farewell . Provincial Minister David Nestler, OFM Cap., was main celebrant and homilist. He framed his words around a crucifix given to him by Phil some years ago. Considered by David at first to be a piece of art not to his liking, it attained beauty over the years and reflected Phil's life of faith as he encountered many struggles in his own life.
       After the Mass, Phil's body was taken to the friars' plot at St. Augustine Cemetery to rest among our other brothers who have preceded him in death.
       Fr. Phil's obituary appears here.

       The experience of Phil's farewell inspired this reflection of Fr. Bonaventure: "Inside the Coffin."