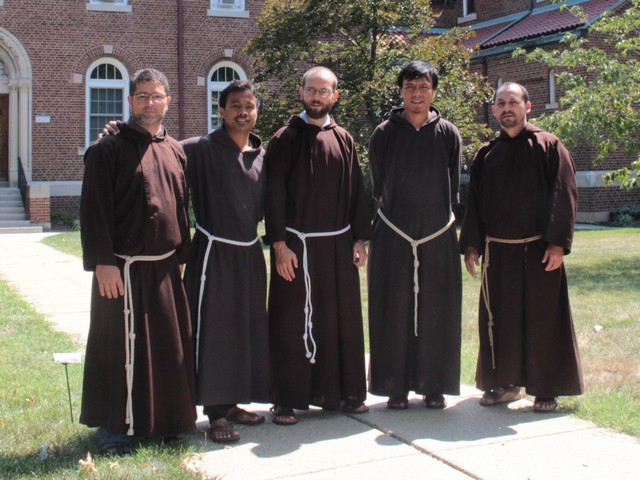 Brs. Seba, Manuju, Piotr, Jekson, Francisco
English is so tough to learn because they spell "England," and they pronounce it "Great Britain."
The joke may lose something in the translation from Italian, but it's a standard joke that reflects how tough it is to learn the English language (prounounced 'Inglish," by the way!).
Five friars from our International friary of Graduate Studies, Collegio San Lorenzo, in Rome are spending two months in Washington, DC, attending the LADO School for Language studies in Silver Spring, MD. Their two-month stay is a break from their graduate work in Rome at one of the various international universities found there. All Roman universities require a certain fluency in any number of modern languages to broaden a student's available resources for study and research.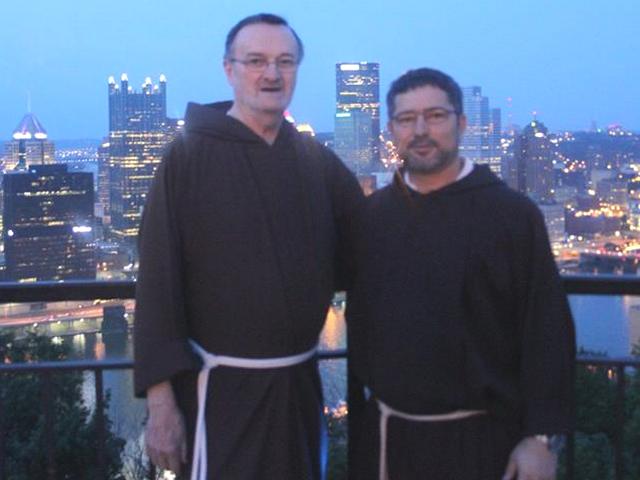 This year, our international brothers (above) are: Sebastião Da Silva, OFM Cap., Province of Central Brazil; Manuju Simatupang, OFM Cap., Province of Sibolga (Indonesia); Piotr Wrotniak, OFM Cap., Province of Warsaw (Poland); Jekson Cresentius Siallagan, OFM Cap., Province of Medan (Indonesia); and Francisco Ezequiel Pascoa Da Silva, OFM Cap., Province of Maranhão Pará e Amapá (Brazil).
Their fearless leader and coordinator has been our own Br. Bob Toomey, OFM Cap., our Provincial Secretary in Pittsburgh (right, with Br. Sebastião), who has facilitated the summer program for over 15 years of its existence. The program is an expression of solidarity with our international Capuchin family, allowing friars to come to the US for their language studies as we supply them room and board to make it possible.
The friars will return to Rome before the classes start for the Fall semester in October. Br. Sebastião (aka 'Seba') took these shots -- Dai, ragazzo!