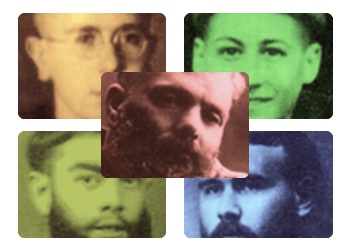 Our Capuchin Minister General, Br. Mauro Jöhri, OFM Cap., has issued this Circular Letter to the Order as we celebrate the coming Beatification of our Brothers who were Martyred in the Spanish Civil War (1936-1939).
Dear Brothers and Sisters.
      News of Christians being killed reaches us almost daily, especially from the Middle East, just because of their belonging to the Christian religion. These events horrify us. We ask ourselves how it is possible that such things still happen in our days.
      It is something truly unacceptable, but perhaps we forget too easily that something similar happened, for example, in Spain, less than one hundred years ago and that among the victims of that persecution many Capuchin friars also figured . . .
      The Order participates with and is very close to the friars of the Capuchin Province of Catalonia in the celebration of the beatifi cation of twenty-six of its sons, killed in odium fidei during the civil war (1936-1939). This coming November 21 in the Cathedral of Barcelona at 11:30 a.m., the Church will proclaim blessed our Br. Frederic of Berga and twenty-five companions in martyrdom. Let us rejoice and give thanks to the Lord!
      For names of all the martyrs to be beatified see "[173]FREDERIC TARRÉS PUIGPELAT FROM BERGA AND 25 COMPANIONS" on this page:
      Read the entire Circular Letter here.