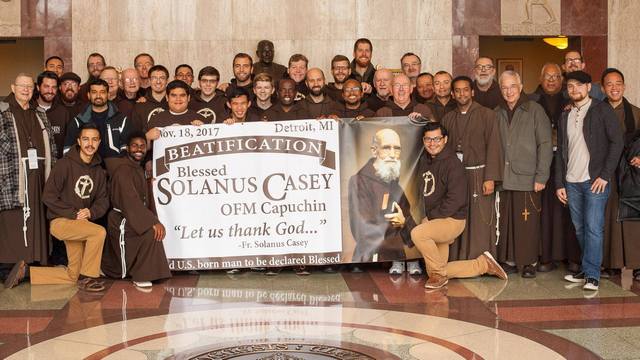 On Saturday, November 18, 350+ Capuchin Brothers gathered in Ford Field, Detroit, MI, to witness the fruits of the labors of our brother Solanus Casey, OFM Cap., as 71,000 people came together to celebrate this humble man's holy life and example. An example that we are called to live today, as Capuchin's and people of faith from every walk of life. Doing what Solanus did, simple things that have great and lasting impact in lives: listening, consoling, teaching and accompanying.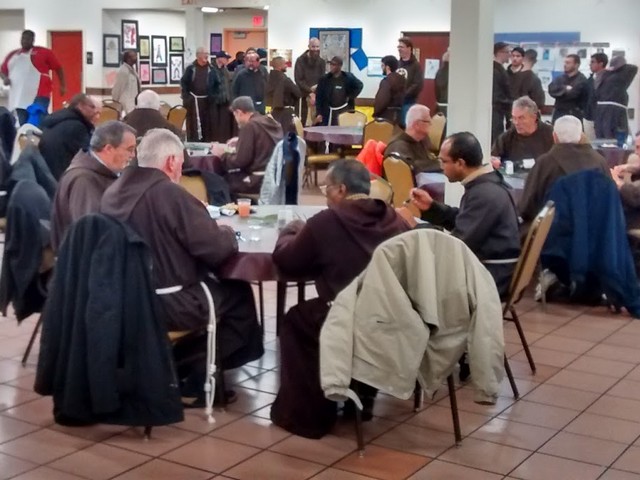 Many of those present in the city came together on Friday evening for Evening Prayer and appetizers in one of Detroit's Capuchin Soup Kitchens, and then were transported to the other Capuchin Soup Kitchen for dinner. The joyous occasion of Solanus' beatification was made even more joyous by the presence of so many Capuchins.

      Speaking to the assembled friars during Vespers, the General Minister, Mauro Jöhri, spoke of how Solanus Casey modeled the Capuchin charism for us. While he never traveled to a distant land, he embodied the missionary spirit by welcoming and accepting everyone who came to him, in the same way that Jesus welcomed all the sick, the suffering and even sinners. Although this is the first beatification of an American Capuchin, Mauro reminded us, it should not be the last. The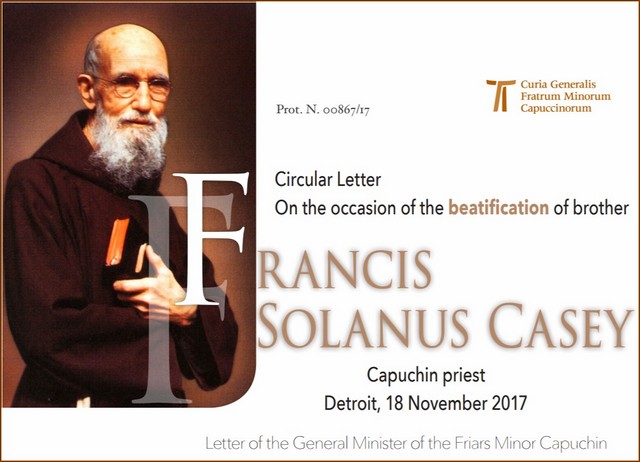 path to holiness taken by Solanus is open to all of us, and now that sixty years have passed since his death, it is time for others to follow his lead. Even if we have done nothing up until now, let us begin again, brothers! In Solanus' simple acts, God worked marvelous deeds through him and will keep pouring out his love through generous hands and hearts! Blessed Solanus, pray for us!

      You can read all of the General Minister's letter on the Beatification of our brother Solanus here.

There was also an article in USA Today on the event, and they included the following video (you may have to bear a 15 second commercial):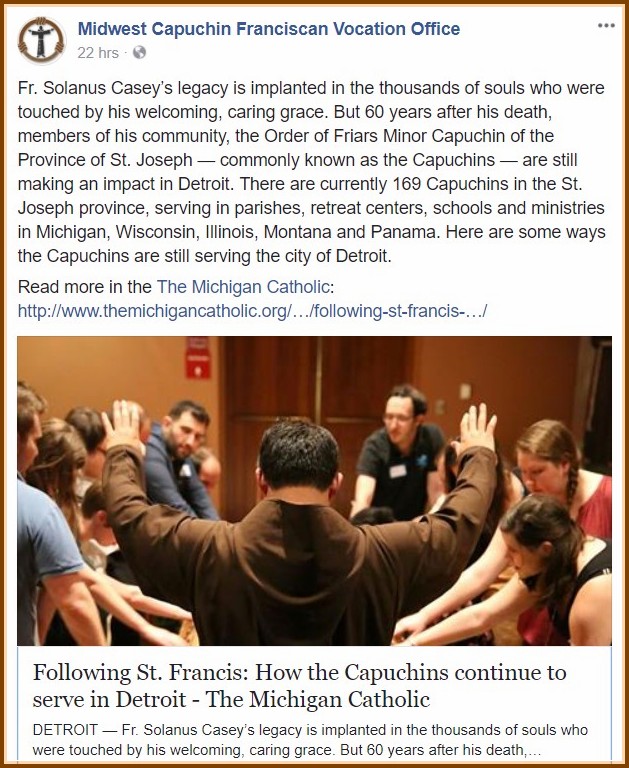 In the conclusion of the beatification Mass, Detroit's Archbishop Allen Vigneron, had a message for the US Apostolic Nuncio, Christophe Pierre, who was present for the celebration: "Your Eminence, when next you speak with our beloved Holy Father Pope Francis, please let him know that we are grateful beyond measure that he has judged our beloved Fr. Solanus worthy of the rank of Blessed. Assure His Holiness of our filial affection and loyalty. And tell him that we are committed anew to imitate Blessed Solanus by witnessing to the good news of Christ's mercy. . . The field hospital of mercy is open here in Detroit!"

From an article published the week before in the Michigan Catholic, it appears that the hospital has actually been open for quite some time: How the Capuchins continue o serve in Detroit. You might want to check it out.