Fr. Bertin Roll, 1916-2015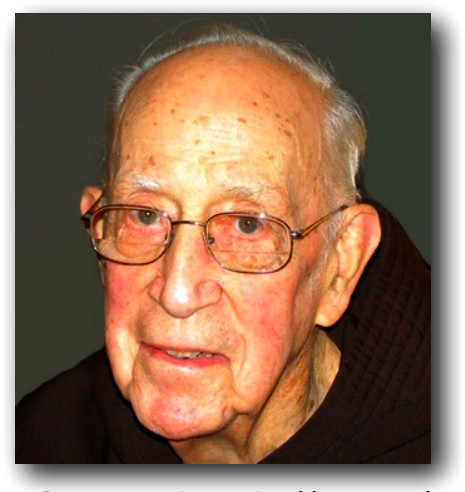 Our brother, Fr. Bertin Roll, OFM Cap., died on Monday, January 5, 2015 at St. Augustine Friary where he resided for over 62 years. Current Minister, Fr. Phil Fink, OFM Cap., reported that Bertin began hospice care on Saturday, January 3. He had lost strength but was generally in good spirits right to the end. He was 98.
   Fr. Bertin was preceded in death by his parents, his sister, Helen, and his brothers, George and Bill, and is survived by several nieces and nephews. Born to William and Nora (O'Brien) Roll on October 5, 1916, he was named Raymond and baptized at St. Athanasius Church in Pittsburgh, PA, where he attended the parish grade school. He chose St. Fidelis High School Seminary to follow his young call to the priesthood and entered the Capuchin Franciscan Order in 1936, taking the Religious name Bertin and professing temporary vows on July 14, 1937, at SS. Peter & Paul Friary in Cumberland, MD. The young friar then studied philosophy with the rest of his class at St. Fidelis Monastery in Victoria, KS, and moved to Capuchin College in Washington, DC, for priesthood studies in 1939. Bertin was ordained on May 28, 1942, in DC's Shrine of the Immaculate Conception.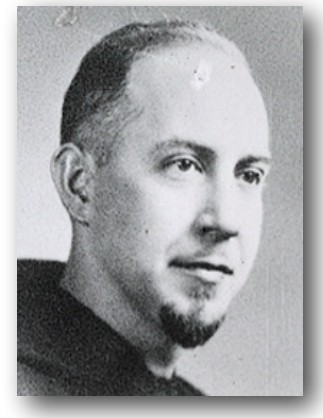 Immediately on completing his studies, his first assignment to the community of St. Augustine Friary in Pittsburgh, PA, would be his first and only house assignment. He arrived to become Assistant to the Director of the Archconfraternity of Christian Mothers and one year later was named its Director, a post he held for the next 60 years. Because of his enduring ministry to Catholic mothers, Fr. Bertin became well-known throughout the nation. In 1954 Fr. Bertin and fellow friar Fr. Simon Conrad co-hosted a live, hour-long Catholic Sunday morning program on CBS. The two Capuchin friars traveled to New York City each weekend for the nationally televised broadcasts of "Look Up and Live." However, it is Father Bertin's work with the Christian Mothers that would be his lasting legacy.
   His passion to provide spiritual guidance to mothers took him to every corner of the nation and beyond. Bertin had a profound respect for mothers and was edified by them and their beautiful vocation. He regularly visited local chapters of the Christian Mothers to listen and encourage, especially when the burdens of motherhood were overwhelming. He never failed to pray for mothers and every person he encountered. During his travels he stayed at parish rectories and was recognized and admired by priests across the country. Many bishops prevailed upon Bertin to establish local chapters of the Christian Mothers in their dioceses. He preached countless parish missions, and his powerful preaching and gentle ways won over many hearts and gained many friends.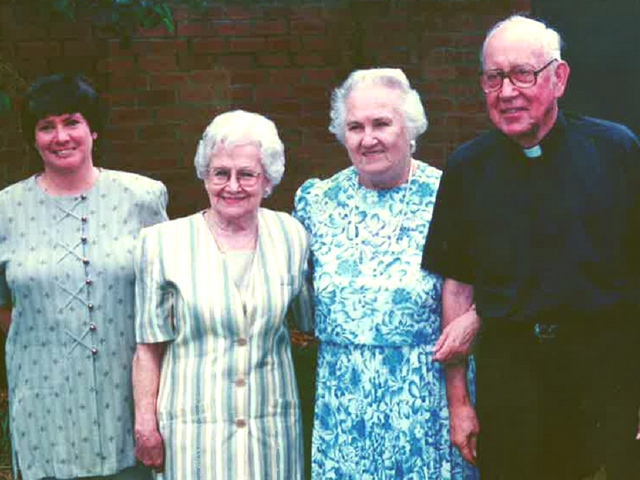 He knew that his work with the Christian Mothers was dependent upon his faithful co-workers in the main offices of the confraternity in Pittsburgh. Throughout most of his tenure Jill Turok, Jane Bienemann, Stella O'Such (pictured left with Fr. Bert),  Mary Anderson and Rita Jones were indispensible in arranging his travels, responding to inquiries, supplying local chapters with resources, and providing organizational advice to local leaders. Their hard work, loyalty and friendship were valued, and he cherished their service. Jill Turok remains as the coordinator of archconfraternity services to this day.
   Wherever he went his golf clubs were stowed in the trunk of his car, always at the ready for the next round of play. Bertin was a golfer of great skill. As a young man he was an excellent baseball player and always a fan of the game and all sports. He was considered a draft prospect for the major leagues in his early years, but he remained undeterred in his desire to be a Capuchin friar and priest. He was always a gentleman. He only spoke kindly of people and never complained about others or his own circumstances, even when his health was failing. 'Fr. Bert' expressed an eager interest in others, rarely mentioning his own numerous accomplishments, and always quick to recognize and express h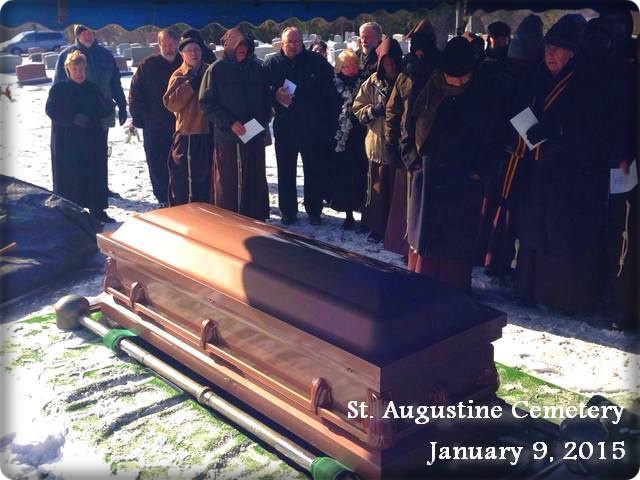 is appreciation for the talents and contributions of others, especially those who might go unnoticed.  He was never too busy or too tired for those who sought him out for confession or spiritual guidance. He was unfailingly faithful in prayer, entirely devoted to the Church and held himself to the highest of standards as a Capuchin friar and priest.
   The body of Fr. Bertin was received at St. Augustine Friary, Pittsburgh, PA, on Thursday, January 8, 2015, after which visitors were received and a Wake Service celebrated in the evening. The Mass of Christian Burial was celebrated on Friday, January 9, 2015, at St. Augustine Churech (Our Lady of the Angels Parish). Internment took place in the Friars' plot of St. Augustine Cemetery, Millvale, PA.
---
Read Fr. Bonaventure's Tribute to our confrere.
View a photo tribute to Fr. Bertin.