Fr. Otmar Gallagher, 1921 - 2012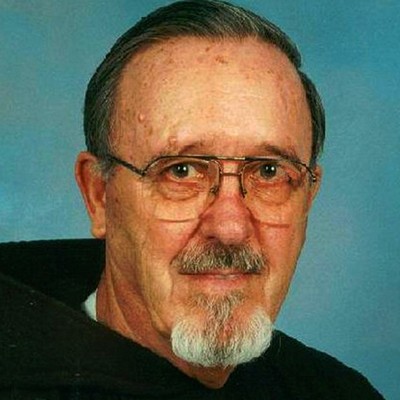 Date of Birth: October 15, 1921
Place of Birth: Pittsburgh, PA
Investiture: July 13, 1941
Temporary Profession: July 14, 1942
Perpetual Profession: July 14, 1945
Priesthood Ordination: June 8, 1948
Date of death: November 20, 2012
Burial: St. Augustine Cemetery, Millvale, PA
"I cannot claim to be or have been an exemplary friar
. . . , but I think it is fair to say that I have been
somewhat of an obedient friar at least."
Fr. Otmar Gallagher had a reason to be proud. He was proud to be a Catholic. He was proud to be a Capuchin. He was proud to have served in Puerto Rico and to have been the first Superior of our pioneer friars who would found the mission in the Southern Highlands of Papua New Guinea. He was proud that he had been obedient to his superiors, and he was proud of the work he had accomplished.
Jane Austen's Pride and Prejudice contains the line: "Pride relates more to our opinion of ourselves, vanity to what we would have others think of us." If the author was correct, then Otmar was far from 'vain.' He didn't care much for what other people thought. It seemed to him that he was right most of the time.
Who would have thought that a true pioneer had been born in Overbrook (Pittsburgh), PA on October 15, 1921?
Edward and Helen (Kunzmann) Gallagher had finally had a son, "Edward Jr.," to join their two daughters and elder son. Baptized and raised in the parish of St. Norbert Church, the young man learned much from the faith of his parents and through the support of his family.
He was the youngest in his family and he would be the youngest in his religious class.
He enrolled at St. Fidelis Seminary in Herman, PA, in 1935. Classmates knew not to argue for too long with Edward Gallagher, Jr. He was bound to win, if even from sheer perseverance. That's saying a lot given that his classmates were people like the future Fr. DeSales Young or Fr. Kenny Cox. Gallagher could logically tear apart an opposing argument while implying all the while that his own stance was mere common sense – a 'common' sense obviously lacking to his opponent.
As he received the Capuchin habit in 1941 in Cumberland, MD, Edward was given the name "Otmar" – a name as unique as its bearer. Br. Otmar worked hard at studies and worked hard with his hands. He was no slouch. He inwardly grew impatient at those he considered lazy or who would neglect their obligations. "The fact remains that I have always been an impatient, to put it mildly, man."(May 5, 1992)
He studied philosophy at St. Fidelis Friary in Victoria, KS, and in 1944, began his theological studies at Capuchin College in Washington, DC. Fr. Otmar was ordained a priest at the Shrine of the Immaculate Conception in Washington on June 8, 1948. He was a man of the Church, and he was quite serious about his vow of obedience. In May, 1992, he would write of his assignment history as he informed the Provincial of his desire to return to the US.
"I never dreamed of being or even wanted to be a missionary," Otmar wrote. "Still, six weeks after my Ordination, I was assigned to Puerto Rico without any previous consultation." The Provincial at the time of his Ordination, Fr. Claude Vogel, OFM Cap., seems to have overlooked Otmar in his consultation with the newly ordained:
"Fr. Claude apparently missed the fact that I was in my final year so said nothing about apostolates during visitation. Neither did I. He did, though, bring this matter up with my classmates. When he assigned me to Puerto Rico, I did not object because I was willing to do whatever the Provincial assigned me to do. Then, when I had been in PR [Puerto Rico] about six and a half years, our Province accepted this mission to PNG . . . I received a special delivery letter from Fr. Don Nally [of the Mission Office] congratulating me on being appointed Superior of the PNG Mission. I thought to myself that Don must really think I'm stupid to believe what he'd written . . . but when I opened the Status or the Directory, sure enough, what he had said was a fact.
"So, in all, I've been oversees as a missionary for forty-four years which is not such a bad effort for a friar who quite likely would never have volunteered for PNG if he had not already spent seven years in PR and would never have gone to PR of his own choice in the first place."
In obedience, Fr. Otmar served in Puerto Rico, for seven years. He worked as a parish priest in Trujillo Alto and Utuado, and later as a chaplain at the tuberculosis sanitarium in Ponce. He returned to Trujillo Alto for his last assignment as pastor to the local parish and as the chaplain for the leper colony. It is no surprise that the young priest was named the "Adopted Son" of the city of Trujillo Alto before his departure.
Fr. Otmar toyed with the idea of becoming a military chaplain. In 1951, he felt that someone from the Province should be assigned to this important ministry for the country.
"The men in the States, at least some of them, are of the opinion that we down here [in PR] think that we are independent of the Province and its superiors. I admit that we have given the friars in the States grounds for so thinking. This certainly would be a golden opportunity to give them grounds to think otherwise. I feel that if we down here don't do something about that opinion, in the long run we are going to do damage to the mission. And I'll argue that point with anybody, anytime, anyplace."
While logic was to tell Fr. Otmar that the youth and energy of the friars in the mission would allow the sacrifice of a friar young enough to meet the age limits for a Chaplain at the time, he did not know that Fr. Victor Green, OFM Cap., was about to invite those young men to a new and challenging mission being asked of the Province by the Church.
As indicated above, Otmar was assigned to be the leader and superior of the new mission in Papua New Guinea. The friars packed up their trunks, which would contain all of the necessary items to build the Catholic faith in a new territory. They packed chalices, vestments, altar cloths, wine, hosts and books into those trunks. Some of the supplies were sent by cargo ship through the mission office, but other trunks with the absolute basic necessities for the celebration of Mass and the Sacraments were in the personal trunks which accompanied the men on their sea voyage to Australia and the Southern Highlands of Papua New Guinea, its colony at the time.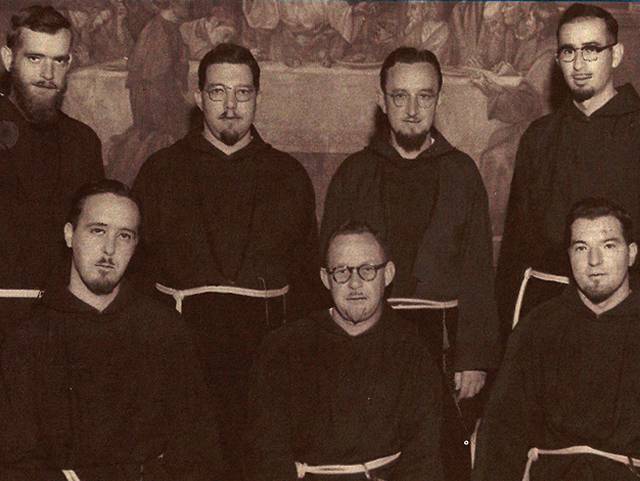 Their names are legendary and written on the heart of the Province of St. Augustine (from l-r, beginning with front row): Fr. Otmar; Fr. Henry Kusnerik (+1990); Fr. Stanley Miltenberger (+1994); Br. Mark Bollinger (+1996); Fr. Paul Farkas (+2000); Fr. Victor Green, the Provincial Minister; and Br. Berard Tomasetti (+2003). These were the pioneers assigned to this fledgling enterprise. There was no handbook for what to expect, and there were yet no books on the language unique to the voluminous tribes they would encounter. They memorized words and phrases of Pidgin English, used by the Australians for communication among the peoples. The rest was theirs to discover, create and implement.
Fr. Otmar served untiringly in various leadership capacities for nearly twenty years. In 1956 he established the mission headquarters in Mendi and was named Vicar Delegate. He became Prefect Delegate in 1960 and prepared the mission to become a diocese in 1965. Its first bishop was our brother Firmin Schmitt, OFM Cap., who was a teacher in Theology for the friars until his call to be a missionary bishop.
Otmar oversaw an extensive building campaign in the Southern Highlands, establishing scores of parishes and out-stations, schools, convents and friaries. The rugged terrain and primitive conditions presented an enormous challenge. However, with the indispensible and faithful help of other missionaries and the eager willingness of the local people, Father Otmar's determination and skilled leadership produced an incredible infrastructure for the Catholic Church in the Southern of Highlands. It remains to this day and is a lasting legacy to Father Otmar's faith and abilities.
In 1972 he relinquished wider responsibilities and took on parish work in Kagua and Sumi. For the remaining thirteen years of service in Papua New Guinea, Father Otmar was chaplain at the high school in his beloved Tari.
On September 16, 1975, the country of Papua New Guinea was officially recognized as independent from Australia. On September 30, 1975, within two weeks, Fr. Otmar wrote to then Provincial Minister, Fr. Brendan Malloy, OFM Cap., informing him of his desire to become a citizen and to surrender his American passport:
"I am firmly convinced that I as a missionary must be Catholic first and a citizen of some particular country second. Of course, I am happy that I am an American citizen, but I would also be happy to be a Papua New Guinea citizen if I should become one . . . I have already devoted over 20 years as a missionary . . . I feel obligated to do whatever is in my power to safeguard the work that has been done so far in establishing the Catholic Church here . . .
"The fact remains that there are very few Papua New Guinean bishops, priests, Brothers and Sisters. It could be quite difficult and perhaps even impossible to convince non-Catholics that the Catholic Church in this country is local when very few of the Church's top 'officials' are citizens of the country . . . Perhaps this is required by my vocation as a missionary."
Fr. Otmar was particularly disturbed by discussions in the Province which indicated that St. Francis' missionary impetus was to "establish the Order." Otmar was to take this as a personal affront, insisting that he was there to establish the Catholic faith. That was the mandate given by Rome in establishing our presence there. He was disturbed by the increasing violence which plagued the country as the Australian police were replaced by native enforcers. The latter would need to defend their own lives and the lives of their families if they were ever called to take a life in defense of the law. The lawless came to rule, 'might' was once more emerging as making 'right,' and Fr. Otmar addressed an editorial to the Post Courier recommending ways in which the people can "Make Punishment Useful." Violence was only sprouting more violence as vendetta, and only an effective means of constructive punishment which could help to build an effective infrastructure would solve the problem.
In 1991, Otmar had returned for a regular vacation in the Province and at that time, at the age of 70, he began to contemplate the need to retire as a missionary. He was disconcerted at the desire of confreres (and the Minister General) that the mission be declared a Vice Province of the Order. He felt the new distinction would take away from their focus on mission and the Catholic faith. Of course, most of the newer men shared neither his starting point nor his work ethic. The sixties and the seventies had brought a cultural change that was difficult for Otmar's generation, and he was only being introduced into those changes in pieces.
He ended his missionary labors in 1992 and returned to the United States. After a period of rest to be with family members and friends, he was able to secure a position as chaplain to St. Joseph Hospital and Bon Secours Nursing Home in Port Charlotte, FL, where his sister, Helene, had lived. He developed relationships and was able to effectively care for the people there from 1993 until 2002. Wtihin three years of his only surviving sister's death, Otmar felt it time to return to his roots.
For several years Father Otmar was a confessor at St. Mary of the Point Parish in downtown Pittsburgh. He was an avid sports fan, and friars could rely on him for a full re-cap of every Pirate and Steeler game. He found fraternity life to be a challenge; concelebration of the Eucharist was never to his liking, so he would celebrate his private Mass hours before the community, but he was there to attend the community function. He maintained his strong beliefs about work and would become exasperated easily if he felt the friars didn't clean up after dinner enough or wouldn't lock the dining room door (which he would do religiously before his 8pm bedtime).
After suffering from an increasing difficulty in walking and from various illnesses, including a successful fight against cancer, Otmar grew weaker and less involved. On November 5, 2012, he was admitted to UPMC Mercy Hospital, Pittsburgh, PA, for a serious infection. Congestive heart failure caused him to be placed on a ventilator as his conditioned worsened. He passed to his eternal reward just after 10:00am, November 20, 2012. He was 91.
Fr. Otmar's body was brought back to St. Augustine friary on November 23 where public viewing took place before a Vigil Service at 8:00pm. His funeral Mass was celebrated on Saturday, November 24, at 1:00pm, which was followed by his burial in the friars' plot of St. Augustine Cemetery, Millvale, PA.
In his funeral Mass homily, Fr. Bob McCreary, OFM Cap., called Otmar one of his heroes. He, along with the other pioneers who had ventured into unchartered missions were heroes because "they showed immense generosity to God, bore immense physical hardships, [and] showed an immense love of Christ." Fr. Bob also remembered an incident when a recently received member of the Order had joined us after having spent time as a lay missioner in PNG and taught at Tari High School where Otmar had lived and served. "He could not wait to meet Otmar," Bob said. "When he saw him, the young friar burst into tears just realizing how much this man had done for the Lord and his people."
Fr. Otmar was certainly moved at the young man's recounting of how present he was in the memory of the Tari people. Perhaps, after I shirk and a smile, he most surely have thought, "I just did what I was supposed to do," and expect us to do the same.
Of course, knowing what we're supposed to do was much clearer to Fr. Otmar than it often is for us.