Fr. Bonaventure Stefun, 1928-2017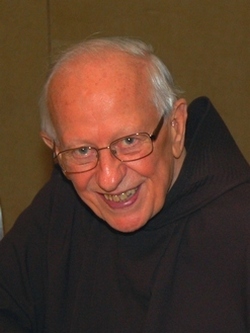 When people would ask our brother friar, Bonaventure Stefun, OFM Cap., how he was doing, he was famous for always responding "Terrific," accompanied by those eyes which told you he would make it be so. Our brother returned to the Lord on March 4, 2017, in Pittsburgh at the age of 88, and we know that it was a 'terrific' experience for him, something he had been waiting and hoping for.
     Born in New Kensington, PA, on September 22, 1928, to John and Anna (Kovolik) Stefun, he was given the name "Joseph" at his baptism. One of nine Stefun children, he was to be the last surviving sibling. Preceding him in death were his sisters Anna, Barbara (Stanley), Mary (Schuler) and Elizabeth (Reedy); and his brothers Andrew, John, George and Raymond. Numerous nephews and nieces mourn his passing among whom is his nephew and fellow Capuchin friar Emett Schuler, OFM Cap., of our Capuchin College fraternity in Washington, DC.