How did they get here?
Created on Wednesday, 14 August 2013 23:44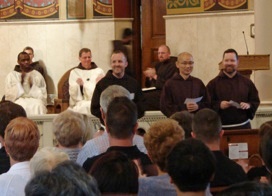 On Saturday, August 17, 2013, three friars made their permanent profession of the vows of poverty, chastity and obedience. That moment was the culmination of 5-6 years of spiritual discernment for all three brothers. Our Province is proud to have these generous and compassionate men as full members of our fraternity.
You could be one of us, one day, by God's grace and through your own discernment. Here, they tell a bit of their stories in their own words: