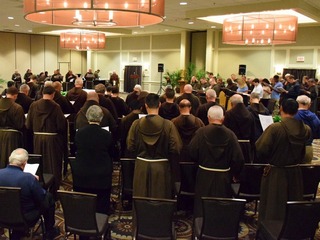 June was a month to remember and cherish for the Capuchin Province of St. Augustine.
       In the tradtion established for our brotherhood by our father St. Francis of Assisi, our Provincial elective Chapter was held from May 30- June 3. In Harrisburg, PA, the friars gathered to discuss our life and to elect those who would serve us for the next three years. Br. Tom Betz, OFM Cap., who has served as our Vocation Director, was elected as our new Provincial Minister, and his Council of advisors was also chosen.
       On June 11, three of our friars, Brian Stacy, OFM Cap., Rafael Anguiano, OFM Cap. and Juan Antonio Cruz, OFM Cap., were ordained to the priesthood in Pittsburgh, PA, by our Capuchin confrere, Bp. Don Lippert, OFM Cap., now serving as the Bishop of the Mendi Diocese in Papua New Guinea.